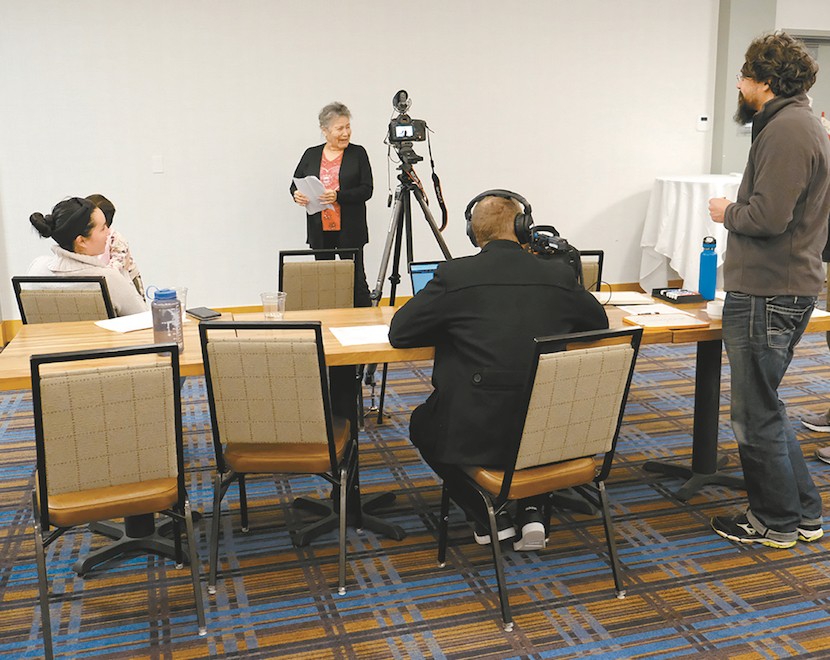 Rosetta Stone Inc. sent a crew from their headquarters in Virgin- ia to Mille Lacs on December 10 to audition Band members and other Anishinaabe for roles in the company's Ojibwe language audio and video productions.
Rosetta Stone, a company specializing in language-learning technology, has been hired by the Band to create a six-year Ojibwe language program that will be free to Band members and available through a cellphone application.
Over 20 members of Mille Lacs and other Ojibwe bands took their turn in the spotlight.
Elders Shirley Boyd, Bette Sam, Carol Hernandez, and William Premo read for the parts of Waabooz and Waabishkibines — the grandmother and grandfather characters.
Joscelyn and Jazmyne Skinaway, Angelique White, and Shaylynn DeCoteau from District II drove down with Niigaan Coordinator Cheyanne Peet to audition for the teenage roles.
Amanda Nickaboine, Bradley Harrington, Michelle Pagel, and Byron Ninham tried out for the roles of the parents.
Kate-Lynn Paypompee drove five hours from Whitefish Bay, Ontario, to audition. Kate-Lynn has already acted in some Canadian Ojibwe language videos.
Jaeden King from District I seemed to enjoy the directions to yell, get angry, and act sad, but laughter came easiest for the Onamia senior.