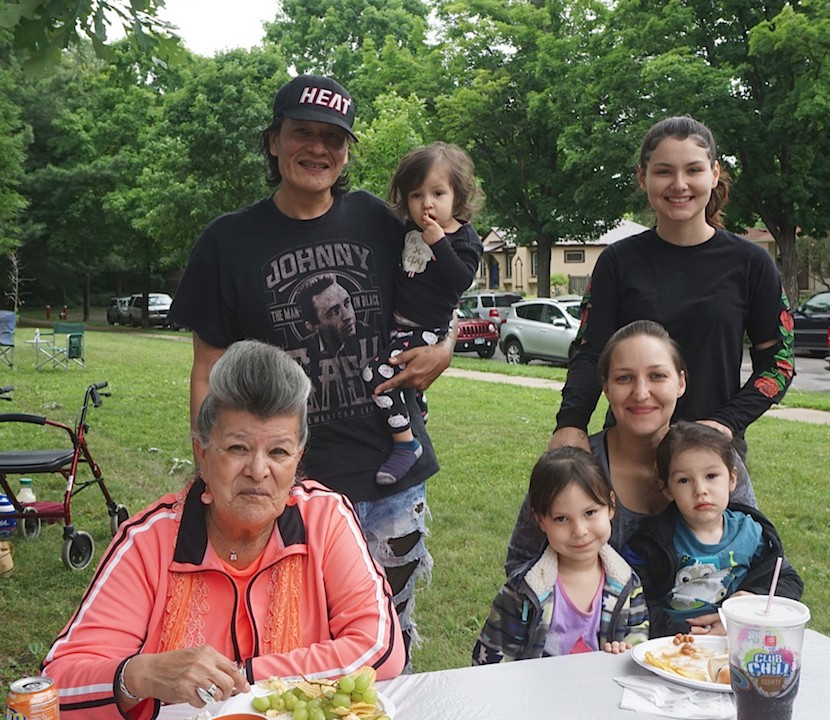 By Toya Stewart Downey Mille Lacs Band Member
The sights and sounds of children running through the grass, playing tag with friends, and spending time in the playground are just a few of the delights of a summer day in a park.
Add in perfectly grilled burgers, other tasty food, and oo- dles of prizes and to the average passersby it becomes obvious that there's something special underway.
This "something special" was the joyful celebration that is the urban area's annual end-of-school-year picnic.
"Having these community events and getting to- gether to celebrate each other is important," said Wahbon Spears, the site manager for the Urban Office. "It matters that we take time to gather because when we're together everyone feels like family. Being in the city and away from the reservation sometimes you feel like you're so far away, so we need this time together."
Sponsored by the Mille Lacs Band Urban Office each summer, this year's event drew more than 150 Band members and their families to Brackett Park in southeast Minneapolis.
A new addition to the picnic this year was the annual celebration of youth who have excelled both academically and in extracurricular events. The incentive programs, Anangoog Nandoné and UHOPS (urban honoring our pre-schoolers), were created for urban youth by Band Elders Barb Benjamin-Robertson and her mentor, the late Jim Clark.
"It's important for tribal members to get together and to be able to celebrate our children and their successes," Wahbon said. "I know this sounds cliché, but they are our future and we need to boost them up and support them and their victories." The day's festivities also included a visit by Minneapolis firefighters, who brought two trucks to the park for kids to climb aboard and to learn about their careers. The families were also able to pick up safety tips from firefighters. Monte Fronk, the Band's Emergency Management Coordinator, began inviting the firefighters to the event several years ago.
Band member Penny St. Clair said it's important that this event for and by urban Band members continues.
"It's good for the kids to come and play and run around," she said. "And it's a good community gathering."
Her sister, Micki St. Clair, agreed and added, "It shows the urban area that we are not forgotten.
SAVE THE DATE!
The Urban Office is sponsoring its first National Night Out event, which will be held from 4 to 7 p.m. on Tuesday, Aug. 6. Families are encouraged to come out and enjoy the fun and support the local community.