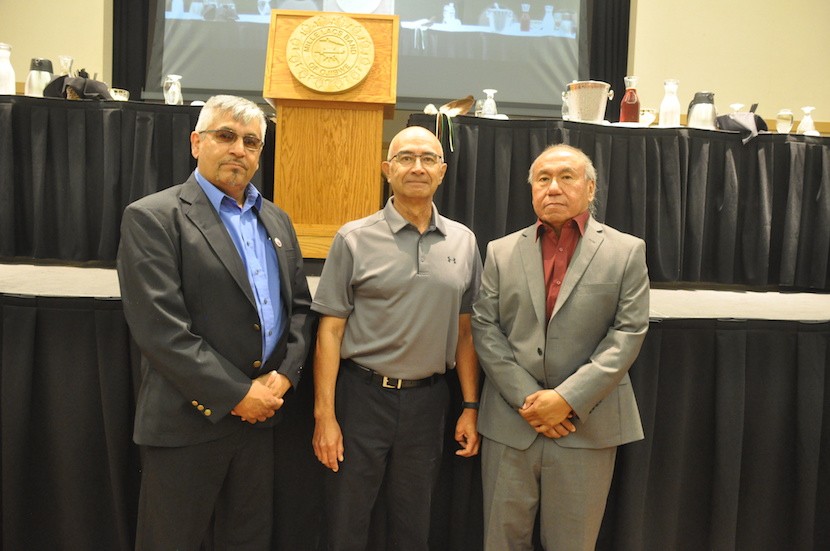 The Mille Lacs Band of Ojibwe swore in three new members to its Band Assembly, which is the legislative branch of the tribal government, on July 10. Sheldon Boyd is the new Secretary-Treasurer, Marvin Bruneau is the District II Representative, and Wallace St. John Sr. is the District III Representative.
"Our new Band Assembly members are bringing momentum for positive change to our government and our communities. The discussions we've already had about working together give me hope and confidence that we will accomplish a lot over the next four years," said Chief Executive Melanie Benjamin. "That's why theme of this inauguration is Maamawinikeniwin – putting our hands together!"
The Band Assembly consists of one Representative from each of the reservation's three districts and the Secretary-Treasurer who presides over the Band Assembly as speaker – all of whom serve four-year terms.
Secretary-Treasurer Sheldon Ray Boyd
District II Sheldon Ray Boyd split his childhood between the Mille Lacs Reservation and the West Bank area of Minneapolis, where he graduated Minneapolis South High School and Northwestern Electronics before attending the University of Minnesota Duluth.
Boyd has four children and four grandchildren who inspire him to do his part to help create a better future for all Band members. Boyd currently serves as the Site IT Manager for Nay Ah Shing Clinic. While Boyd has made electronics and technology his profession, he says that his Anishinaabe culture and spirituality have always been the most important part of his life.
Boyd has been a Drum member since 1985, serving as a pipe carrier. He believes it is everyone's responsibility to set good examples for Band youth and take care of their health as well as their spirits. A self-described "casual runner," Boyd has run half-marathons with his coworkers at the clinic.
Representative Marvin Ray Bruneau
Marvin Bruneau is a lifelong resident of District II on the Mille Lacs Reservation. He is the father to three daughters, Erin, Amanda, and Amber. He graduated from McGregor High School and attended the College of St. Scholastica.
Bruneau served as the Mille Lacs Band's District II Representative from 1990 to 2014, and was re-elected in 2018. He has also served the Band as a member of the Housing Authority Board of Directors, a Community Health Representative, and a Drum Society member. In addition, Bruneau has been an Emergency Medical Technician and a factory worker in the McGregor area.
He enjoys fishing, reading, and spending time with his family. He looks forward to coming back to serve as a member of Band Assembly and making positive changes for the tribe.
District II includes Band member communities in Minisinaakwaang (East Lake), Sandy Lake, Minnewawa near McGregor, and Chiminising in Isle on the south side of Mille Lacs Lake.
District III Representative Wallace St. John Sr.
Wallace St. John Sr. was elected District III Representative in 2018. He has worked for the Mille Lacs Band government and resided in District III of the Mille Lacs Reservation since 1999. District III includes the Aazhoomog (Lake Lena) community near the St. Croix River east of Hinckley, as well as a large community of Band members living in Hinckley.
Most recently, St. John worked in land and wildland maintenance for the Band's Department of Natural Resources for seven years. Previously he held housing and public works positions for the Band, as well as at Black Bear Casino as a floor person, pit boss and shift supervisor, and in public works for the Fond du Lac Band. His volunteer service includes 10 years on the Nay Ah Shing School Board and 11 years on the Mille Lacs Band Boxing Commission.
St. John is the proud father of six children and twelve grandchildren. He is a graduate of Flandreau Indian School, where he was active in student government. He intends to integrate the Ojibwe cultural values of peace, harmony and balance with nature into his work for the community.
District III includes the Aazhoomog (Lake Lena) community near the St. Croix River east of Hinckley, as well as a large community of Band members living in Hinckley.
Mille Lacs Band Chief Justice Rayna Churchill presided over the swearing-in ceremony, held at Grand Casino Mille Lacs. She also swore in newly re-elected Nay Ah Shing School Board members Joe Nayquonabe Sr. and Rick Dunkley. The next Band election will be held in 2020, when the District I Representative and Chief Executive positions will be up for election.
Photo: Wallace St. John Sr., Marvin Bruneau, and Sheldon Boyd.