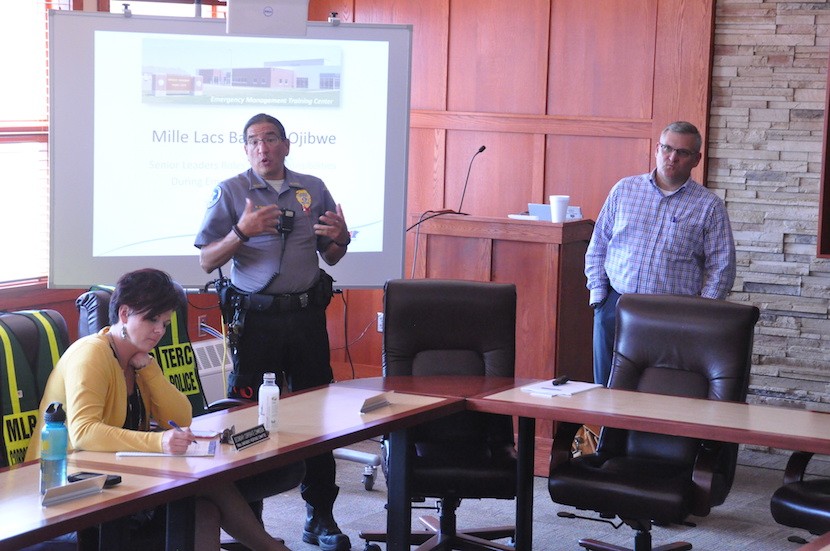 To ensure that Band members are protected in the event of an emergency or natural disaster, government officials participate in the Tribal Emergency Response Committee, or TERC.
On September 12, TERC members met with Kevin Reed, Deputy Director of the Minnesota Homeland Security and Emergency Management division of the Minnesota Department of Public Safety.
Mr. Reed spoke about the role of the agency and how the Band and State can work together to prepare for and respond to emergencies.
The visit was arranged by Emergency Management Coordinator Monte Fronk.
Background
In 2000, the Band was one of five tribes from FEMA Region V to receive an initial startup grant to create a Tribal Emergency Management program. One of the key components of the grant was for the Band to create a unified decision-making body for incidents called a Tribal Emergency Response Committee (TERC).
The TERC would respond to incidents that require efforts beyond normal day-to-day operations, such as a hazardous materials spill or severe weather damage.
Tribal leadership determined that the TERC should consist of Executive Branch Commissioners, a backup for each Commissioner, and representation from Tribal Police, Tribal Emergency Management and Tribal Public Information Officers.
Since 2000 the TERC has participated in exercises to test their readiness ability, partnering with county, regional and state agencies. As membership has changed, new members have been mentored by seasoned TERC members with assistance from the Tribal Emergency Management Coordinator, Monte Fronk.
During the blowdown and floods in 2010 and 2012, TERC's unified command ability was tested. In the event of such an emergency, the Tribal Emergency Management Coordinator is responsible for providing information to the TERC for overall direction and control of Band government resources involved in the response to a disaster.
The Emergency Management Coordinator also serves as a liaison with county emergency management directors as a well as state and federal emergency management personnel. The Deputy Tribal Police Chief serves as a backup to the Coordinator in his absence.
With every training or exercise, members of the TERC build relationships with local, county, regional, state and federal agencies, and they demonstrate their dedication to the protection of life, natural resources and property in Mille Lacs Band communities.
In recent years, the TERC has helped plan tabletop exercises that prepared personnel for oil spills, disease outbreaks and wildfire.
Another important TERC initiative was the purchase of generators for community centers in all districts. The generators were installed in 2015, and the community center staff was trained to use them when they were tested and activated.