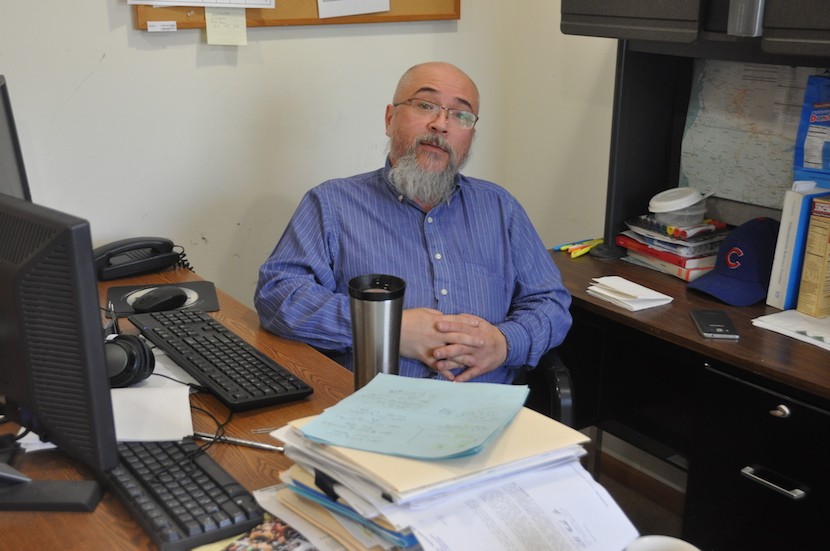 By Brett Larson
By day, Charlie Lippert is the Air Quality Specialist for the Mille Lacs Band DNR, but in his off hours, Charlie has a side gig helping to preserve the Ojibwe language.
Charlie is a non-Indian, but as a mixed-race kid in Ladysmith, Wisconsin, he bonded with mixed-race Ojibwe families from the Lac Courte Oreilles Reservation.
When he started college, Charlie flunked freshman English — probably because his Jewish father spoke Yiddish at home, and his Japanese/Ainu mother spoke Japanese.
Charlie moved back and forth with his father, a ship captain, between Ladysmith and exotic locales like Hong Kong, Tokyo and Busan, South Korea.
His English grammar suffered, so his teacher recommended he take a foreign language to improve his understanding of grammar. German would have been too easy, since it's close to Yiddish, and Ojibwe was the only other offering.
After a year, Charlie joined the Navy and took his Ojibwe books and interest along for the voyage — having no idea that he might someday end up working for an Ojibwe tribe.
His hitch complete, Charlie enrolled in a chemical engineering program, having developed an interest in air quality while maintaining submarines. With children to feed, Charlie took a job in Environmental Chemistry with the Fond du Lac Band, where he continued learning and using Ojibwemowin — the Ojibwe language.
A few years later, in 2002, Charlie was hired at Mille Lacs, and his work on Ojibwe continued in a new community.
"As a non-native taking Ojibwe, that was unusual in the 1980s," Charlie said. "Now here I am with 30 years of Ojibwe, and I'm at a point where I need to share what I've learned."
And share he has. A few years ago Charlie discovered a free language site, appropriately called "Freelang." Charlie sent a list of 1,500 Ojibwe words, followed by another list of 3,000 a few months later, compiled from dictionaries, books, and his hand-written notes from his Navy days. Eventually, the operator of the site gave Charlie control of the Ojibwe database, which he continued to expand.
Dr. John Nichols, one of the foremost authorities on the Ojibwe language, is familiar with Charlie's work. "The work Charlie has done on the Freelang Ojibwe dictionary has been very helpful to many students as he put together all of the older written sources, many of which are hard to access," Dr. Nichols said.
Dr. Anton Treuer is equally appreciative of Charlie's work. "Charlie Lippert is bright, hardworking, and deeply passionate about Ojibwe language and history," said Dr. Treuer. "In some ways he's been hiding in plain sight, doing heavy lifting out of the public eye, developing Ojibwe entries on Freelang, doing map work for the Mille Lacs Band and lending his expertise to the development of vital resources that support the ability of Ojibwe people to learn more deeply about their part of the planet. He's an unsung hero."
Charlie has assisted on several map projects recently, researching place names for the online Decolonial Atlas. He's worked on maps of Chicago, St. Louis, the Great Lakes and the Mississippi Headwaters, and he is working on a Twin Cities map.
How does he characterize his Ojibwe skills?
"Speaking, pretty poor," Charlie admits. "But reading and writing? Excellent." Charlie can look at a 19th century transcript of Ojibwe and translate it into English without too much difficulty.
Charlie's language skill has also helped him in his job. He has become a resource for DNR employees and others in tribal government to help integrate Ojibwe language into their programs.
He doesn't think of himself as a teacher, though. "I see myself as a cultural assistant, an ally," he said. "It would be presumptuous of me to step into the role of active teaching rather than facilitating."
Call him what you will, Charlie Lippert is certainly a friend to those working on language preservation and restoration.
Air Quality
Charlie Lippert recently passed the 15-year mark as the Band's Air Quality Specialist.
The Band's air quality program operates an ozone monitoring site and is part of the Minnesota Pollution Control Agency's monitoring network. The MPCA validates the data and sends it to the U.S. Environmental Protection Agency.
"Air quality management is a group effort," Charlie said. The Band partners with many state, federal, and provincial (Canadian) agencies.
Charlie's responsibilities can be divided into five areas:
–  Ambient air quality monitoring: collecting and analyzing data from the ozone site and other sources.
–  Ambient air policy: studying, proposing, and implementing local, state, and federal air quality rules and regulations.
–  Air Quality modeling: looking at pollution plumes and trends and seeking solutions.
–  Indoor air: monitoring and improving air in Band- owned buildings, in partnership with Human Resources, Housing, and Public Health.
–  Personal air quality: improving individuals' health through smoking cessation, asthma education, and lung health programs.