Chief Executive
About Melanie Benjamin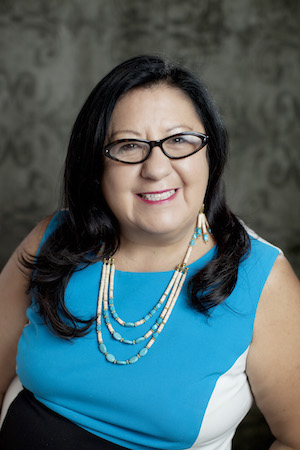 Chief Executive Melanie Benjamin leads the Executive Branch of tribal government, which implements Band laws and programs. As Chief Executive of the Non-Removable Mille Lacs Band of Ojibwe, Benjamin is statutorily responsible for conducting external relations on the Band's behalf with all other governments and political subdivisions. Benjamin was first elected Chief Executive in 2000, and was re-elected in 2004, 2008, 2012 and 2016.
Benjamin first gained experience in tribal government in 1989 when she was recruited by the late Arthur Gahbow to serve as his chief of staff in the position of Commissioner of Administration, a role which she held between 1989 and 1997, and which is the top appointed position in Band government. After Art's passing, Benjamin continued in this post throughout 1997 under the late Marge Anderson. Benjamin has also served as Senior Vice President of Administration and Finance at Grand Casino Hinckley, and as Interim Director of the Pine Grove Leadership Academy. Benjamin has been active on many boards and organizations throughout the state and nation. She is a board member of the American Indian Law Resource Center, the Minnesota Board on Aging, Women Empowering Women for Indian Nations, the U.S. Attorney General's Tribal Nations Leadership Council, the National Indian Gaming Association (alternate), and is a past Secretary and Vice Chair for the Minnesota Chippewa Tribe.
Benjamin earned a master's degree in education from the University of Minnesota Duluth and a Business Administration degree from Bemidji State University. The daughter of the late Frances Reynolds and George Staples, Benjamin is the mother of Clayton (Candace) Benjamin and the proud grandmother of 11 beautiful grandchildren and a member of the drum society.
Greetings from Melanie
It is a privilege to welcome you to the Mille Lacs Band of Ojibwe website. We are happy to introduce our unique culture and history, as well the entertainment and hospitality amenities introduced a generation ago that flourish today in central Minnesota. We offer a wide spectrum of attractions, from a museum tour to a championship golf course and stage performances by nationally known entertainers. You'll read a bit about that here, and the story of who we are as a people and what we care about. Again, thanks for your online visit and stop in anytime!
For the Chief Executive's video updates, see the Mille Lacs Band's YouTube channel.