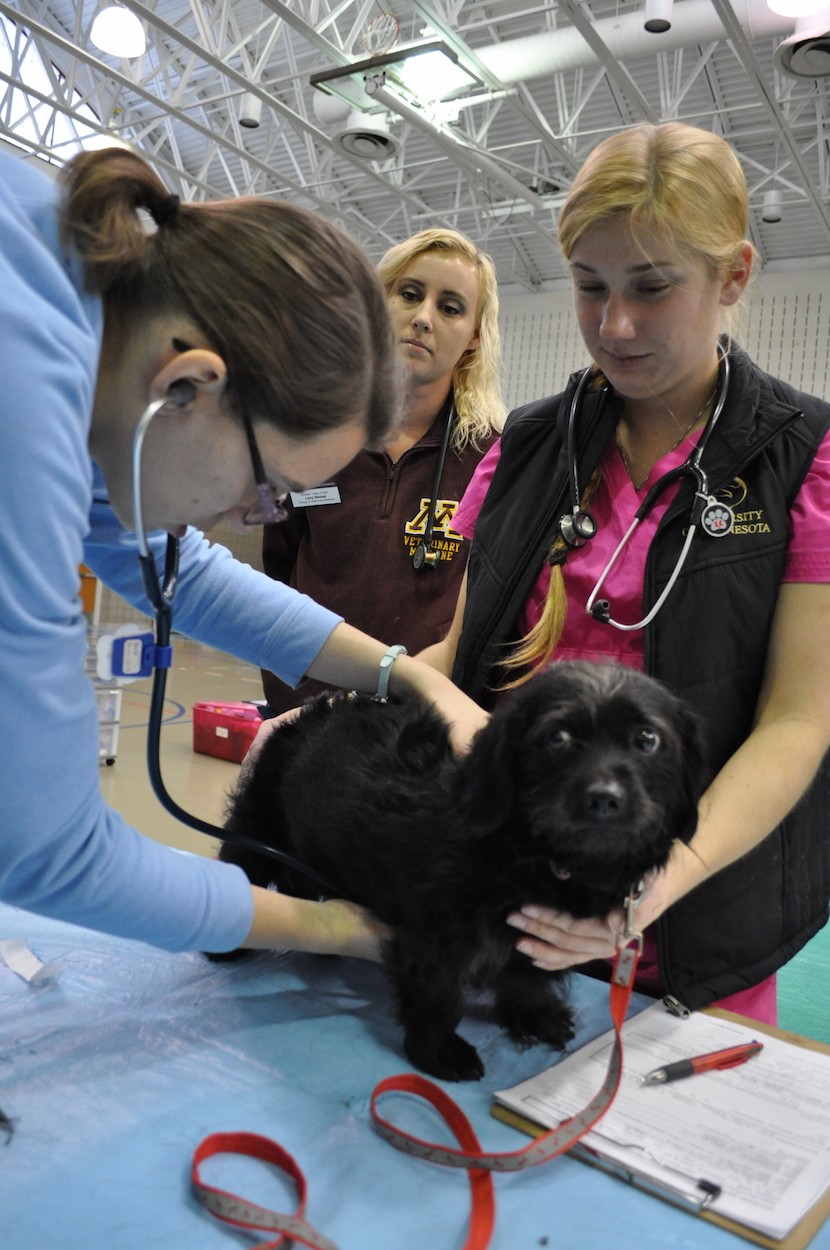 SIRVS — Student Initiative for Reservation Veterinary Service — brought their third annual vet clinic to the District I Community Center on November 18 and 19, sponsored by District I Representative Sandy Blake.
The veterinarians and veterinary students performed 22 spay and neuter surgeries on Saturday and 67 wellness checks on Sunday, which helped the health of the community by preventing more than 1,300 unplanned litters of puppies and kittens.
Monte Fronk of the Tribal Police Department oversees Tribal Emergency Management and helped organize the event. He stressed that heathy pets represent healthy families. Monte's daughter Nici, who photographed the event, said the event "improves the health of the community, one paw at a time."
SIRVS is a nonprofit student group from the University of Minnesota College of Veterinary Medicine. The group provides free veterinary care to rural communities in Minnesota.
Photos by Nici Fronk.
East Lake and Chiminising MNSNAP Clinic
Spay and neuter clinics will be held January 8 at East Lake Community Center and January 23 at Chiminising Community Center, with services provided by the Minnesota Spay and Neuter Assistance Program (MNSNAP) and sponsored by District II Representative Niib Aubid.  Vaccinations will also be available, and the costs for surgeries and vaccination will be covered by the District II Representative's Office.
The deadline to reserve a slot at East Lake Community Center is December 29. Call Renee at 218-768-3311 by December 29, or if you miss the deadline, call to see if there are additional spots.
For Chiminising, stop by or call Mandy or Carmen at 320-676-3101. Please be prepared to provide information on your pet.
Any spots not filled by East Lake and Chiminising Community members are open to other District members at the following costs for services:
Dog Spay or Neuter under 40 lbs: $70
Dog Spay or Neuter 40-70 lbs: $80
Dog Spay or Neuter over 70 lbs: $90
Cat spay: $50
Cat neuter: $40
Rabbit spay: $60
Rabbit neuter: $50
Rabies vaccine: $10
DHPP(dogs) vaccine: $10
PRC(cats) vaccines $10
Microchip: $20
 
The MNSNAP fully equipped veterinary clinic on wheels delivers low-cost, high-quality spay and neuter surgeries for animals belonging to shelters, rescues, and low-income pet owners in Minnesota. 
The mobile surgical unit travels to a pre-scheduled destination for the day. Staff admits each pre-scheduled animal, collects fees, and performs pre-operative physical exams. During the day, all the patients are cared for by MNSNAP's highly qualified, licensed veterinarian and her team of experienced and caring veterinary technicians; patients are anesthetized and surgically sterilized using the most current anesthesia medications, equipment, and surgical techniques. All animals are discharged the same day.