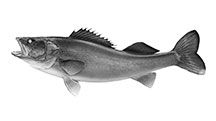 By Mille Lacs Band of Ojibwe, July 31, 2015
The Minnesota Department of Natural Resources announced July 21 that state walleye anglers are nearing their harvest quota on Mille Lacs.
After the next creel report is received, Minnesota DNR Commissioner Tom Landwehr will take the necessary actions. If the state determines it has exceeded its harvest allotment, the commissioner will be legally required to suspend fishing for walleye on the lake.
At a meeting at the governor's residence on Monday, July 20, Gov. Mark Dayton informed Chief Executive Melanie Benjamin and Mille Lacs Band DNR Commissioner Susan Klapel of the news.
Gov. Dayton has directed the DNR to wait until after the next creel survey, which will cover the period from July 16 to July 31, to see if the most recent numbers are an aberration. During that time, officials at the DNR, the Office of Tourism, and Department of Employment and Economic Development will meet with resort owners and other affected stakeholders on Mille Lacs to discuss the situation and seek recommendations.
Susan Klapel told Band members at the District III community meeting that the state's action will not affect Band members, who have not yet reached their walleye quota.
Despite the ongoing challenges with the walleye population, other fishing on the lake remains strong and near record highs. DNR Commissioner Landwehr stressed that anglers should take advantage of the continuation of liberal northern pike and smallmouth bass regulations on the lake.
"Mille Lacs Lake remains one of the premiere fishing destinations in the state," Landwehr said. "Northern pike and smallmouth bass are at or near record highs. Anglers should take advantage of the liberal regulations for these species. DNR tagging studies also indicate that muskies larger than 50 inches have never been more abundant."
The Mille Lacs Area Tourism Council is also encouraging tourists and anglers to find other ways to "do the lake." State officials met with Mille Lacs business owners on Thursday, July 23, to discuss ways to help the business climate.