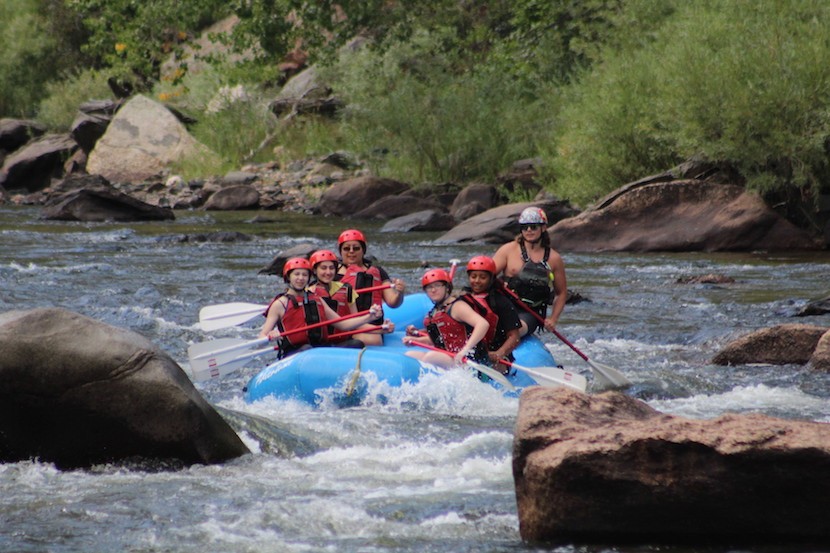 By Makadegwanebiikwe Mikayla Schaaf Mille Lacs Band Descendant
Mille Lacs area students are thriving through the TRIO Upward Bound program hosted by Central Lakes College in Brainerd. Upward Bound has made a positive impact on the lives of many students by working to transform high school students into successful college graduates.
What sets Upward Bound apart from other programs is that it supports students to overcome class, social, and cultural barriers to higher education. The program also provides educational services to high school students who are from families that meet federal income guidelines and students who potentially would be the first generation to graduate from college.
Mary Sam, Dean of Students at Central Lakes College, speaks about great things happening with the program. "CLC hosts the Upward Bound Program in many high schools in the region, including Isle, Onamia, and Nay Ah Shing. Staff facilitates amazing work with 9th through 12th graders in terms of high school success strategies, creating a pathway to college and exposing them beyond the shores of Mille Lacs Lake."
Several Mille Lacs Band Upward Bound students have moved on to earn master's degrees in the recent years. One recently taught English Composition at St. Cloud State, and the other is a city administrator outside of St. Cloud.
CLC also hosts a six-week summer leadership program where students earn college credit, with Mille Lacs participants each year. After the completion of last summer's program, CLC staff led a trip to Colorado, the Black Hills, and other places to explore college opportunities and participate in outdoor recreation activities like white water rafting.
Mille Lacs Band member Naomi Weyaus is an Upward Bound graduate who has gone on to achieve tremendous success. Naomi obtained her bachelor's degree in an intensive English program from Marquette University and her master's degree in English studies from St. Could State University.
Naomi is very passionate in the work she does and has recently accepted a position working in the grant writing department for the Mille Lacs Band. Naomi is grateful for the support she received from the Upward Bound program.
"People often asked me how I 'got out,'" said Naomi. "On the surface, they are asking how I became successful in the face of adversity. I can never find an answer that truly satisfies them; however, I do know that Upward Bound was instrumental in shaping the person I have become."
Calling Upward Bound an academic program doesn't capture the impact it had on her life, Naomi added. "Yes, Upward Bound helped me apply for schools, tour colleges, and guide me through applying for scholarships. However, those things, as important and as helpful as they are, were only a small part of what made Upward Bound an auspicious experience. The largest part was the community and support that comes when surrounded by like-minded peers — peers who, like me, were not rich, whose families were battling the same demons of poverty and addiction as mine were, and who still found it within themselves to move forward with life instead of becoming trapped in the cycles of poverty and addiction that our parents and siblings fell victim to.
"So when people ask me how I did it, the answer is simple: I had Upward Bound. No doubt, without it, I probably would have been fine, but because of Upward Bound I am thriving. I found a support system that continues to encourage and support me today. Having that network has made all the difference."
Another Naomi — Naomi Sam — has seen the value of Upward Bound through the eyes of a parent. Her daughters — senior Ronni Jourdain (Bagwajiikwe) and sophomore Mia Sam (Chi-ikwe) — have participated in the program since ninth grade. Their sister Chase (Bagwajiikwezenz) looks forward to attending next summer's program.
"This program has really helped with preparing the girls for college life, and although the events take place over the summer or on the weekend, the girls, and us as parents, have remained committed to being in attendance and showing up for events," said Naomi. "They've benefited academically and personally. Teenage years are full of awkwardness, but Upward Bound really brings a safe and welcoming atmosphere for all who attend. They really give children a great start on reaching their goals, and puts into perspective that you can achieve anything you put your mind to!"
Ronni said she has enjoyed making new friends and traveling with them through the program. "On our travels we got to experience new things together, and making memories with them was something great as well," Ronni said. They volunteered at Camp Confidence in Brainerd and went whitewater rafting in Colorado. "Upward Bound provided Summer classes, and on-site student housing that made learning in the summertime pretty fun while being informative at the same time! Stipends for attendance were nice, because we got to treat ourselves for our hard work. This will be my last year with Upward Bound, as I am a senior, but I would recommend it to other kids my age!"
Ronni's sister Mia also appreciates the friendships and travel opportunities. "My most positive memory would be traveling to the State Capitol, to have a special guided tour of the building," said Mia. "We learned the history of the Capitol, and what the officials do in office, as part of the decision-making process. The Saturday Academy is also a good time. It helped me with preparing for college life, and my sister Ronni and I have sparked interest for our younger sister Chase, who will also be attending Upward Bound soon."
What is Upward Bound?
Since 1965, families have looked towards the Upward Bound program to successfully assist students academically in school. Funded by the US Department of Education under the Higher Education Act, Title IV and TRIO programs, Upward Bound has been able to serve several high schools including Isle, Nay Ah Shing and Onamia.
If you are interested in the TRIO Upward Bound Program please call Charles Black Lance, Director of TRIO Programs 218-855-8119.