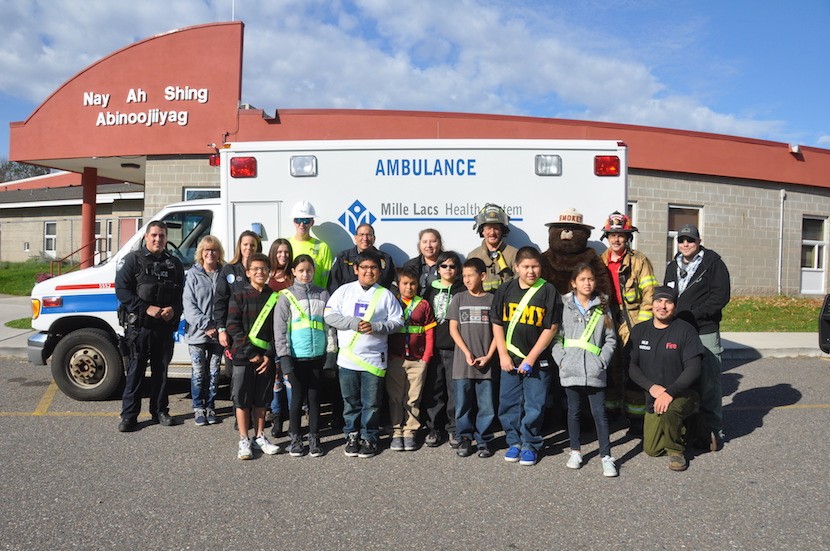 It was a busy morning at Nay Ah Shing Abinoojiiyag Oct. 25 with visits from fire fighters, EMTs and electricians, who taught students in kindergarten through fifth grade about safety and fire prevention.
Kindergarten kids learned from Mike Schneider of Garrison Fire and Rescue. Mike put on his bunker gear for the kids, who watched with wide eyes and open mouths.
First-graders got a fire truck tour from Mike's colleague Jason Stiernagle, but the real highlight was spraying water at a model house.
Tyler Rosnau and Cortney Nadeau of the Mille Lacs Band DNR taught second-graders about wildfire fighting. They also got to crawl under a fire shelter ("like a giant baked potato!") and spray water from the DNR truck, with a surprise visit from Smokey Bear.
Third graders had an ambulance tour with personnel from Mille Lacs Health System, and fourth graders learned about safety around power lines from Mille Lacs Energy Cooperative.
Fifth-graders served as safety patrols and were dispatched to each of the lower grades to help out. After lunch they worked with Emergency Services Coordinator Monte Fronk on a Red Cross pillow project.
Monte invited Terry Kemper to give the kids a talk about the thunder beings. After one of the students gave him tobacco, Terry sang a prayer song and told the kids how the ancestors would put out tobacco for the thunderbirds.
"They'd put their tobacco out because the thunderbirds were coming to give them a gift," he said. "They referred to them as the Grandfathers and Grandmothers. We offer tobacco to them and say thank you. Those thunder beings never wrecked our villages. Do you know why? Because we talked to them, we sang to them, we gave them our love, and they gave us their love. The most important part is that there was love in our hearts. As Anishinaabe, there's a lot of love in us."
Two of the boys in the class volunteered to share songs, which were met with cheers and applause from classmates and a hearty "Aho!" from Terry.
Terry encouraged the kids to go outside and sing to the trees, the birds and the clouds. "We need you guys to sing those songs and learn those songs. In the future you might get a healing song that will come to you and help our village. Don't be scared. Don't worry about how you look and how your voice is — get out there and sing," he said.
After Terry's talk, Monte talked about the three things each home needs: a smoke alarm (checked once a month), a weather radio, and a fire extinguisher.
Finally, Monte introduced the Red Cross Pillowcase Project. Each child was given a pillow case to decorate and fill with supplies that would be needed in the event of an emergency evacuation: first aid kit, blanket, pen and paper, water, flashlight, toy, radio, asemaa, toothbrush, toothpaste, clothing, soap, book, pictures of loved ones. One of the kids recommended bringing some asemaa as well.
Monte, who organized the event with Abinoojiiyag Principal Lehtitia Weiss, was pleased with the event. "It was a very good day," he said. "The weather was perfect, and everyone showed up. It took a lot of teamwork between the police and school. Hopefully the kids learned a lot about fire prevention and safety and can take that home with them."