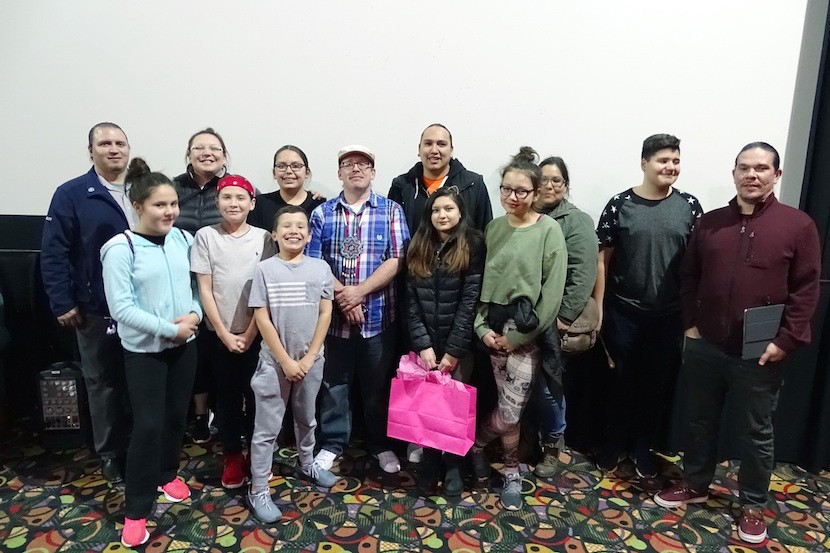 By Li Boyd Mille Lacs Band Member
Winter is the time for telling stories, and on February 28 Band members came together at Grand Makwa Cinema for the second Mille Lacs Band Aadizookewin. Stories were told by special guests Anamikiins Stark, Alex Belille, Lena Mountain, and their teacher Mike 'Migizi' Sullivan from Waadookodaading Ojibwe Language Institute in Lac Courte Oreilles. The event was free and open to the public, with popcorn and hot chocolate provided for attendees.
The rebirth of the storytelling tradition began slowly with a public event hosted by the University of Minnesota Duluth years back. The late Larry 'Amik' Smallwood and his then language student Migizi told stories at this event, resulting in requests for more events. There was initially resistance to the idea of turning storytelling into something so public.
Traditionally, Anishinaabe families came together in their homes during the winter months, spending time with one another and learning or re-learning the lessons handed down through the generations. As things have changed in Anishinaabe communities, so too has the practice of visiting and talking with one another. It has been a significant blow to a culture based on community and oral tradition. The stories have not been making the rounds as they should.
Because of this, the hesitation to turn storytelling into a community event rather than a family practice was put aside in favor of keeping the stories alive. The first public Aadizookewin was held last year and featured stories told by Amik, Migizi, David 'Niib' Aubid, and Vincent 'Niib' Merrill. The event was coordinated largely by Melissa Boyd and was held at Grand Makwa Cinema at the suggestion of Bradley Harrington.
Migizi, now a story carrier himself, teaches at Waadookodaading, where students are immersed in Anishinaabemowin for all subjects except English. As soon as the snow falls, Migizi begins storytelling. He encourages his students to tell stories as well, instructing them to practice on their families at home. This year he hosted a contest for best student storyteller. The winners of this contest were invited to tell their stories in Mille Lacs, sharing the lessons they know while also showcasing what is possible, given the right language. It was a gift for both the students and the Mille Lacs community.
The stories told all featured Wenabozho, the trouble-making half-spirit hero and teacher the Anishinaabe people have always looked to for entertainment and wisdom through examples of how not to do things. Wenabozho walked the earth when everything was still new, and it was his job to name the things he found. Wenabozho seldom did this without mishaps that profoundly affected the world around him. For instance, Anamikiins Stark told the story of how Wenabozho's scheme to get an easy meal of ducks gave the loon its red eyes and the dogwood its red color. Alex Belille spoke about how these stories are more than just stories. They're to be taken seriously and must only be told in winter. Lena Mountain, first place contest winner, told the story of when Wenabozho tried to be a woodpecker and knocked himself out. The wood- pecker told Wenabozho "not to act like someone he's not." Fundamental values like these are often the center point of Wenabozho stories.
Migizi explained that "the chimooks have sin." That's the concept which guides and informs Christian behavior. Anishinaabe take their cues instead from Wenabozho, and Migizi says, "There is nothing we can do that Wenabozho didn't already do." Wenabozho stories are about how Anishinaabe people should live life and take care of themselves, not just what they can't or shouldn't do. "If you draw Wenabozho, don't draw his face, because we don't know what it looks like," Migizi says. But if one ever does want to see Wenabozho's face, Migizi says it's not hard to find. Just look in the mirror.
Melissa Boyd believes that the Aadizookewin event is special because of the opportunity it creates for intertribal relationship building. The storytellers from Lac Courte Oreilles brought themselves and their stories from their community to Mille Lacs and shared openly. While some Anishinaabe communities are isolated from each other, programs and movements like this one are bringing Indigenous people together in ways not seen before. Storytelling may be the perfect vehicle to take on the task of unifying Indigenous communities. Each story is informative and priceless yet costs nothing to share. And telling the stories in Anishinaabemowin first can be a highly effective way of language revival. The rich cultural milieu can help others find their "Anishinaabe truth."
Plus, these stories will make you laugh. Just remember: Only tell stories in the winter. Or you will get frogs and snakes in your bed!