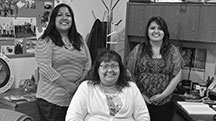 By Brett Larson, July 7, 2015
Mille Lacs Band Commissioner of Natural Resources Susan Klapel has been in her position for just over a year — enough time to make progress on implementing Chief Executive Melanie Benjamin's vision for the department, and enough time to make some controversial decisions.
Susan remains confident, knowing her vision for the department — and Melanie's — is rooted in Anishinaabe values.
"Everything we do here is based on the idea of preserving what we have for seven generations," Susan said. "I think about my nieces who are now 6, 3 and 2, the littlest ones. In 20 years when they're graduating high school and college, what is going to be there for them? What can we do in this department to make sure they have what we have in 20 years?"
Her to-do list is a long one:
Using DNR resources to oppose the Sandpiper Pipeline
Researching the potential impact of mining in District II
Restoring Ogechie Lake and its wild rice beds
Restoring Namachers Lake in Pine County
Completing an enrollment audit to make sure information is as up-to-date as possible
Re-seeding 400 acres in Pine County with native prairie grass
Preserving the Band's archives and oral history
Improving the health of the Mille Lacs walleye population
Educating Band members on everything from climate change to Band history to cultural traditions.
It is Klapel's job to carry out the vision of Chief Executive Melanie Benjamin, Secretary/Treasurer Carolyn Beaulieu and District Representatives. Susan seeks advice from District Reps on property purchases and other issues of importance to the Minisinakwaang, Aazhoomog and Chiminising communities.
As a resident of District III, she understands the importance of listening to all Band members, not just those in District I.
This spring, Susan found herself in the midst of controversy when she decided to ban netting under the ice from April 1 to ice out.
Rumors circulated and some people misjudged her motivation, assuming she was playing favorites or demonstrating a lack of understanding.
In fact, the decision came because she understood the issue well. Because of the small harvest allocation this year, Susan feared too much of the quota might be taken in a short time if a netter "hit the jackpot" under the ice. That would mean few Band members would have a chance to net.
She also feared that the timing of ice out might make netting under the ice unsafe — not just for netters but also for conservation officers. Susan has been on the ice in the spring when it's breaking up, and she's seen the danger it can bring. "The ban wasn't for the whole year — just at the end of the year when the ice was unstable and the new quota was in effect."
What hurt wasn't that people disagreed with her decision, but that they didn't call her and talk to her directly. "I miss being out with Band members," Susan says. "I used to love being at the lake or waiting at the border for the deer hunters to come back. I don't want people to think I'm not approachable."
In the end, the Band Assembly annulled her order, but Susan took it in stride. "That just showed me that our government is working," Susan says. "That's what the elected officials felt their constituents wanted."
As the first woman to hold her position, Susan has experienced some criticism from those who don't think she's up to the task — but that's nothing new.
Susan started her career as a DNR Conservation Officer, and from there joined the Tribal Police force. She's also hunted and fished, so she understands the interests of harvesters. "I've done things any guy has done, but some people don't think my decisions are going to be the right decisions when it comes to hunting and fishing."
She shrugs it off, knowing she's working in the interest of the seventh generation — as well as today's Band members.