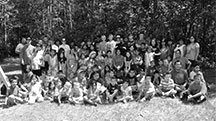 By Brett Larson, August 5, 2015
Staff members are gearing up for fall at the Anishinaabe Izhitwaawin in Rutledge, also known as the Ojibwe Language and Culture Center.
The center hosted a three-day immersion camp in June for 80-plus students from Onamia and Nay Ah Shing schools and the Niigaan Program. They have also hosted a Fatherhood group from the St. Paul American Indian Family Center several times over the last year.
In late July, staff, volunteers and students built wigwams at the center as part of a traditional village project. A men's group from the American Indian Family Center also came to help.
In August, Anishinaabe Izhitwaawin will prepare for ricing season by hosting a youth camp Aug. 18-20 and an adult camp Aug. 25-27. Nay Ah Shing students will attend a ricing class Sept. 1-3, and a group from the Twin Cities will come for a rice finishing camp Sept. 9-12.
Other programs being considered are adult immersion classes for Band leaders and employees, a regional Ojibwemowin retreat, one-day language seminars for Band departments, a language-learning website, and youth camps hosted by the Great Lakes Indian Fish and Wildlife Commission (GLIFWC).
For more information or to schedule an event, email ojiblang@millelacsband.com or call 320-233-6169.