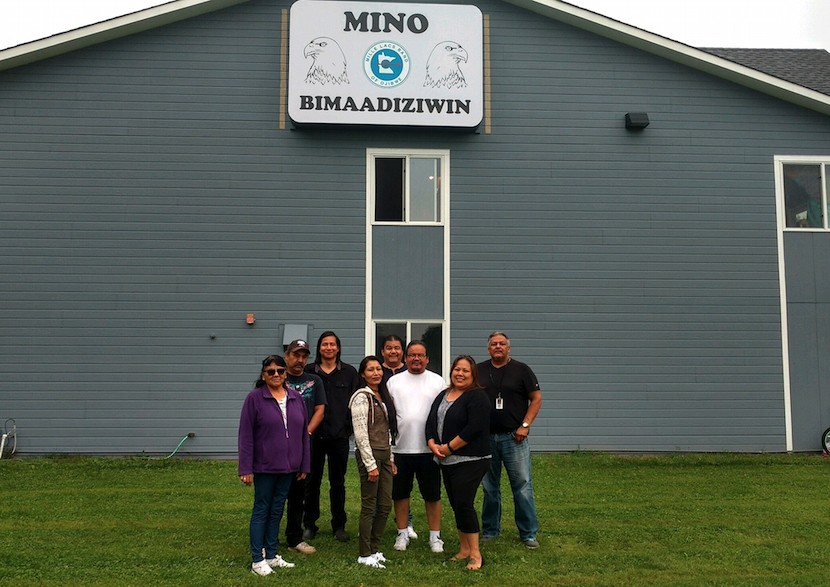 The Mino Bimaadiziwin Hotel opened back in 2015 to meet a serious need for transitional housing in District I. Over the past two years, the vision has developed, and the current staff feel like they've found an effective method of meeting the needs of Band members seeking permanent homes.
Transitional Program Director Janelle Boyd, Intake Worker and Coach Michelle Benjamin and Hotel Coordinator Eloise Wind work with front desk and security staff to operate a facility that not only provides a roof over clients' heads, but also helps them on their path to sobriety, self-sufficiency and "a good life" — the meaning of the Ojibwe phrase "Mino Bimaadiziwin."
"Each Family or Guest works an Individual Case Plan that provides them a path towards self-sufficiency or obtainable goals," said Michelle. "I want them to feel comfortable, so I don't micromanage them, but we do look for people who are just lounging around, or not coming to meetings, searching for housing or following their sponsorship plans. We'll pull them in and ask them what's going on. Maybe they don't know what to do, where to start or just need some advice and encourage- ment. That's what I'm here for, I love to help and so do the rest of my co-workers."
Residents can pay a daily rate of $5 or a monthly rate of $150–$155 if they follow a sponsorship plan to work on barriers that have prevented them from finding work and permanent housing. "There is no deadline to be out; however, we do en- courage them to search for housing and discuss rental options," said Michelle. "We give them the time they need as long as they're saving money, seeking housing and working their case plan with their sponsors."
The Mino Bimaadiziwin staff work with several Band departments and programs: AmVets, Elder Services, Family Ser- vices, Behavioral Health, Mental Health, Public Health, Family Violence Prevention, Wraparound and Aanji-Bimaadizing (formerly Department of Labor).
They also work with county family services departments and the Minnesota Department of Corrections.
If someone can't afford the rent through their per capita payments or other income, Janelle helps them put together a payment plan.
"If they have child support or other bills, we don't want to take all their money, especially if they're saving up to get a car or get their fines paid to get their licenses back," said Michelle. "This is an opportunity to get things paid off. We pay the utilities for them, and they pay rent, their cellphone, etc. We provide a kitchen. Some nights we have feasts, activities or somebody donates food. It's basically like communal living, with a shared kitchen, meeting room and living room."
Both Michelle and Janelle have a wealth of work experience they bring to their jobs at Mino Bimaadiziwin. Michelle worked for 11 years with the Women's Project, which became the Family Violence Prevention Program, and she's also worked as a shelter manager and early Head Start coordinator supervising many staff members.
Janelle started out in Housing in 1991 and has worked her way up from receptionist to admin to finance assistant. Most recently she was Transitional Housing Coordinator, managing 20 units and supervising other staff.
Janelle works with those just getting out of prison, who need a place to come to when their release day is coming up. At Mino Bimaadiziwin, they'll have support and someone to work with and depend on.
Michelle, Janelle and the rest of the staff offer encouragement, letting residents know that people make mistakes, and that they need to learn from them. "I always tell them, with mistakes come responsibilities," said Michelle. "Not everybody works out, but we're seeing more success stories than those who don't make it through the program. Other programs have been a great help — Wraparound, Public Health, Probation Officers and Family Services."
Michelle and Janelle are concerned about some rumors floating around in the community. "There's talk in the commu- nity that we're a drug hotel, but we're a sober living environment, and we do all we can to make sure no drugs are passing through and no one is under the influence," said Michelle.
"If someone breaks the rules, we give them a helping hand and tell them how they violated the Mino Bimaadiziwin guiding principles. We help them get a Rule 25, and they follow those recommendations, instead of just booting them out the door. Some can't handle being sober and choose to keep using, which is a sad moment for staff as we have to tell them good luck as they leave our place. We hope and pray they choose the right path. There are so many addictions out there — heroin, meth — people are struggling. We can't control what goes on outside the property, but we can control what goes on here. We have a lot of success stories. A lot of people have turned their lives around."