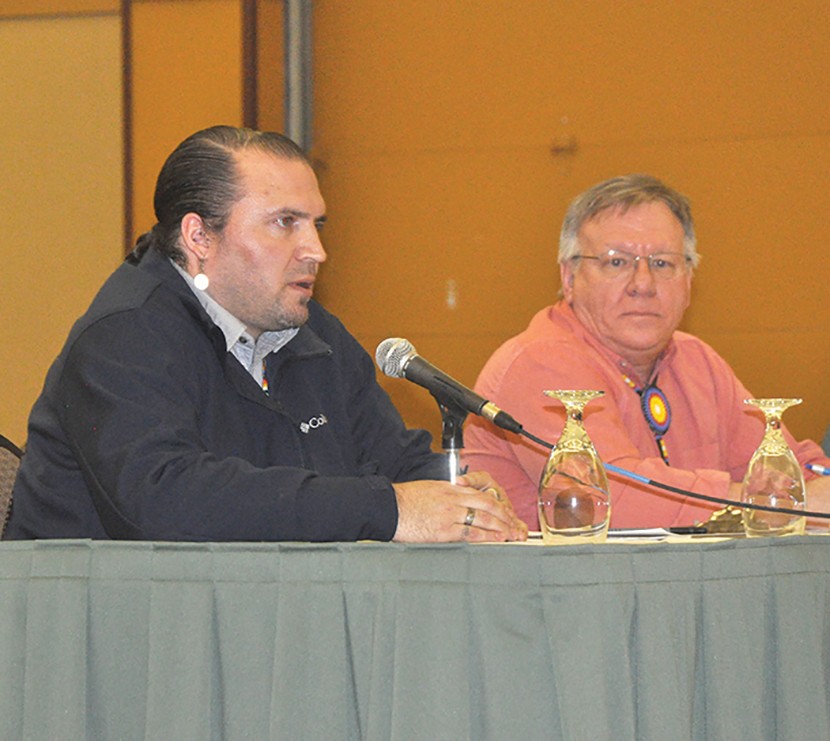 The Minnesota House of Representatives Health and Human Services Policy Committee took to the road January 25 to learn about the opioid crisis from a community that's been severely affected: the Mille Lacs Band of Ojibwe.
Minnesota ranks 11th from the bottom of the 50 states when it comes to overdose deaths, with 11.7 deaths per 100,000 people.
However, the American Indian population of the state has a rate of overdose death that is six times the state average, at 64.6 — higher than West Virginia, which has the highest rate in the nation, with 57.8 deaths per 100,000 people.
Testimony from tribal and community leaders ranged from political observations to personal stories — stories that were emotionally powerful and drew appreciation from legislators who were struck by the courage and passion of the speakers.
One such moment came during the testimony of Baabiitaw Boyd, Assistant Commissioner of Administration, who brought those statistics home by reading a list of six relatives she has lost to the crisis.
"Currently this is our reality," said Baabiitaw. "The people that I named are my blood relatives, and I don't think I'm different from any other person. I think many of us have lost multiple people. … Our reality is dreading Saturday mornings and dreading the weekend after per capita distributions because of hearing those sirens and getting phone calls. We've woken up to multiple phone calls of overdose death."
She spoke of assisting at funerals and seeing family members say goodbye to loved ones. "I've watched people devastated, completely devastated by opioid addiction in sending off their children, sending off their siblings, sending off their parents. And there's a different tone at funerals where somebody lived a long, healthy, and fulfilling life, and when opioid addiction has taken a life. It's a very different experience."
She talked about the language and ceremonies that the Anishinaabe have been given to nourish their spirits from birth to death. "Through historical trauma and oppressive systems … a lot of those teachings have kind of gone by the wayside," said Baabiitaw. "Because it's not readily available or accessible, people don't have the information that was provided for us as a people to nurture ourselves and process life."
Commissioner of Natural Resources Bradley Harrington also made the statistics real for the committee members. "I buried a lot of my friends over the last four years, and to lose a lot of people like that, it's going to take a lot of counseling," said Bradley. "If this were happening in Plymouth, it would be a national tragedy. If it were happening in Golden Valley, it would be a national tragedy."
Opioids continued from page 1
Bradley told his personal story of growing up on the reservation and becoming an addict and convicted felon, saying he had been raised to think it was his destiny to end up in prison as so many of his male role models had done.
Bradley also emphasized the role of culture and traditions in healing for Native Americans and asked the committee members to integrate that into long-term policies. "Let our ways eventually become part of that system of healing that needs to occur," he said. "In order to take care of our intergenerational trauma, we need an intergenerational plan."
Bradley also stressed the need to consider the effects of the crisis on children and asked Legislators to develop ways to help those who are leaving prison and reentering their communities. "Coming home is a big deal," he said. "This is where our answer lies, but also where our problems are."
More testimony
Chief Executive Melanie Benjamin was the first to testify. She talked about Mille Lacs County's decision in 2016 to rescind its law enforcement agreement with the Band, which effectively "handcuffed" Tribal Police for more than two years. Drug deals saw the reservation as a "police-free" zone, so heroin and other illegal drugs became more available.
Also during that time, Melanie said, grassroots groupst like Sober Squad stepped into the gap to encourage addicts to get help. Sober Squad and other groups have provided transportation to and from meetings and treatment centers and organized smudge walks, "per cap patrol," community picnics, and other outreach events.
Melanie introduced Sober Squad founding member Colin Cash, who testified about the effect his group has had and its growing influence on other reservations and in cities like Brainerd and Duluth. Colin's comments led to several questions from House members, who were clearly impressed by the power of his message.
Secretary-Treasurer Sheldon Boyd talked about the "fires" the reservation has experienced — from disease long ago, to alcohol abuse more recently. "The fires killing people in this age are very powerful drugs," said Sheldon. "Children now tell stories and talk about heroin and meth. Those words seem strange coming out of such young mouths."
He also spoke about the sirens that no longer indicate a car accident or heart attack but raise fears of another overdose.
He stressed that many in the community don't participate in the drug problem, but all have been touched by it.
"There are a lot of families here and people who don't personally take or use drugs or experience overdoses," he said. "They never have and never will. But it does affect 100 percent of the community indirectly, and it should affect 100 percent of the community because a healthy community doesn't leave anybody out."
District I Representative Sandi Blake thanked the committee members for coming and credited the state for providing grant funds for the Band's medication-assisted recovery program, which uses closely monitored Suboxone prescriptions to help people who are addicted to opioids. She spoke of the need for services in remote areas like District II and District III, and she recommended that the Suboxone program be expanded to include all tribes in the state.
Sandi said prescription pills have been a gateway to heroin and meth, and Indian people are more susceptible to addiction due to historical trauma.
Nearly everyone on the reservation has been affected by the opioid crisis. "Our addicts, they're our sons and our daughters, our cousins, our aunts and uncles," Sandi said. "We're all related. And they're good people, they're human beings."
She talked about the way addicts withdraw from their families, and the pain it causes. "It hurts the parents, the children. Our children are suffering post-traumatic stress from the behaviors they are dealing with in their homes."
Sandi also spoke of the need for education, the shortage of social workers, and the ripple effects of the opioid crisis on housing, schools, and families — including grandparents who step up to help with their grandchildren. "They're too old to be watching their grandchildren, and yet they'll have many, many grandchildren in their homes because we'll never turn our backs to our children," Sandi said. "We'll always try to help."
Bois Forte Chairwoman and Minnesota Chippewa Tribe President Cathy Chavers and Leech Lake Tribal Chairman Faron Jackson also spoke, as did Mille Lacs Tribal Court Judge Dave Christensen, Prairie Island Police Chief Jon Priem, and Sergeant Derrick Naumann of the Mille Lacs Tribal Police Department.
Band member and Drumkeeper Bobby Eagle, who is a Cultural Advisor at the Band-owned Four Winds Lodge Treatment Center, concluded the testimony, emphasizing again that Anishinaabe ways should be acknowledged as a key to recovery.
"Culture is the cure for what is happening in our community," said Bobby. "There is intergenerational trauma that has occurred to our people, and over the past year I have been helping at the Four Winds treatment facility to help people cope with that in an Anishinaabe way. We have had great successes utilizing our traditions and ceremonies. I just hope you will keep that in mind as you go forward in creating new policies."
Rep. Rena Moran, the chair of the committee, gave a heartfelt thank you to those who testified or came to listen and support their fellow community members. She welcomed individuals to send written comments to the committee or to come to the Capitol to testify at a future hearing on the topic.