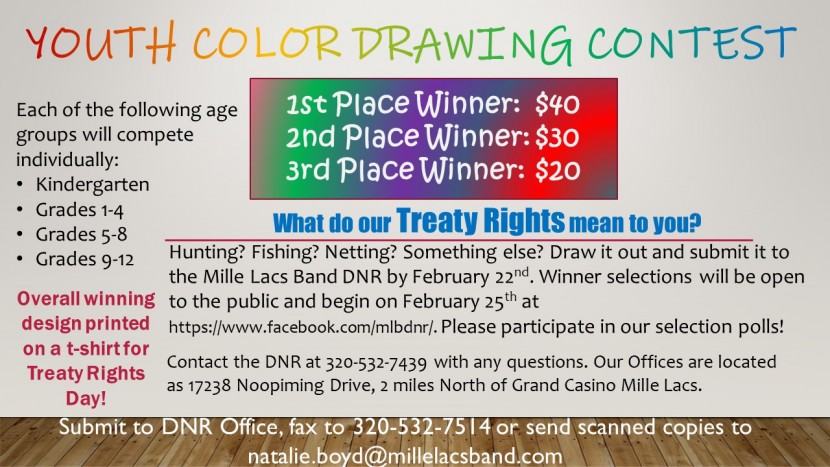 The Mille Lacs Band Department of Natural Resources is sponsoring a youth art contest, with the winning design featured on a t-shirt for Treaty Rights Day March 22.
This year marks the 20th anniversary of the Supreme Court decision that affirmed the Band's right to hunt, fish, and gather as guaranteed in the Treaty of 1837.
The theme of the art contest is "What do our Treaty Rights mean to you?" There will be separate contests for kindergarten, grades 1-4, grades 5-8, and grades 9-12. The overall winner from all groups will be featured on Treaty Rights Day t-shirts.
Hunting? Fishing? Netting? Something else? Draw it out and submit it to the Mille Lacs Band DNR by February 22. Selection of winners will be open to the public and begin on February 25 at www.facebook.com/mlbdnr. Band members are invited to participate in selection polls.
Entries can be submitted in person at the DNR office, by fax at 320-532-7514, or by email to natalie.boyd@millelacsband.com.
Contact the DNR at 320-532-7439 with questions. The DNR office is located at 17238 Noopiming Drive, two miles north of Grand Casino Mille Lacs.