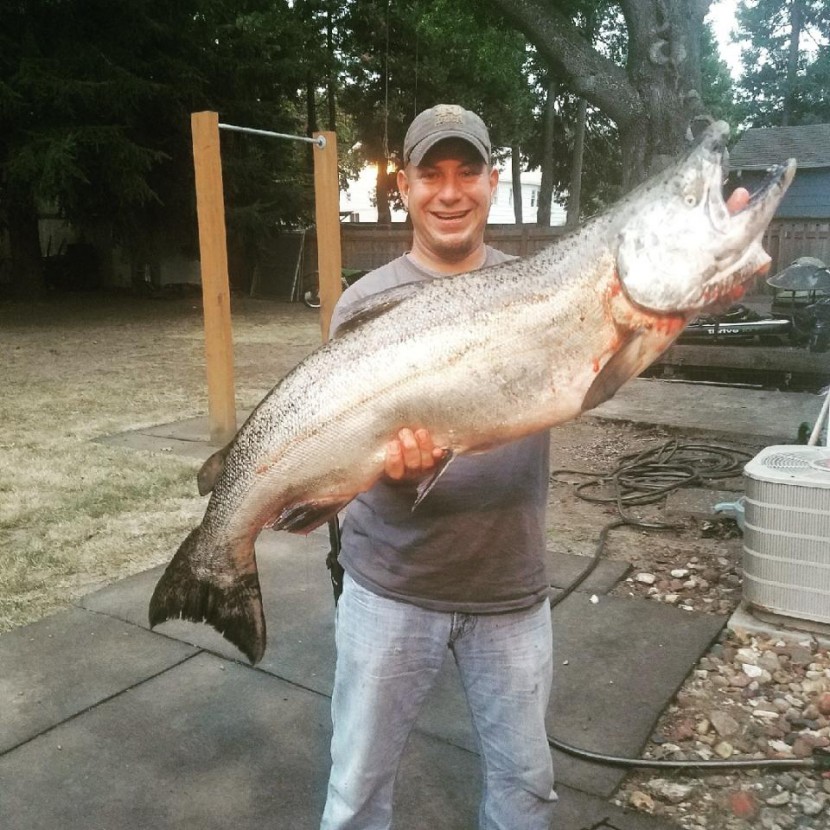 Keith Wiggins stocked his first fishing pond when he was five years old. He and his dad dumped a few bluegills into a pool on their southern Illinois farm, and Keith would spend his days trying to fish them back out.
As the Band's new aquaculture biologist, Keith will have a chance to up his game, using his experience at hatcheries in Oregon to build a state-of-the-art facility here at Mille Lacs.
Keith's love of fishing started at that farm pond and has only grown. "The first house I lived at was by Vandalia Lake, and I fished that a lot. Then we moved to Marion, Illinois, where we lived on the lake and I fished 320 to 340 days a year. If it was 20 degrees, with ice forming on my line, I'd be out there."
As much as he loved to fish, Keith didn't intend to work in fisheries. He got a degree in Game Preserve Management and Shooting Complex Management first, but then switched to a career in heavy equipment.
Around that time, he discovered his connection to Mille Lacs. Keith's mother had left the reservation and ended up in southern Illinois. Keith was adopted by a farm family, and when he grew older, he started asking questions.
He found his mother's tombstone in a small town about the size of Wahkon, with nothing around it but cornfields.
After asking around, he learned that his mother was from the Mille Lacs Reservation. "I literally just grabbed a road map and pointed my truck north," he said. When he came to the reservation he met Betty Kegg, the Kalk brothers, and their mother Rita, Keith's aunt.
They helped him through the enrollment process and he ended up working as a heavy equipment operator on the ex- pansion project at Grand Casino Hinckley from 2005 to 2007, while learning more about Ojibwe culture and his family.
After that, Keith headed west to Oregon, where he worked in heavy equipment until an injury forced him to retrain. He became a fisheries technician and took a job with the Oregon Department of Fish and Wildlife at the Bonneville Fish Hatchery — the largest hatchery in Oregon.
Keith stayed in touch with the reservation through the paper. "When I read an article that said the Band had a hatchery, I made a couple calls, and next thing I knew I had (Commissioner of Natural Resources) Brad Harrington calling me up," he said.
As much as he loved Oregon, it didn't take long for him to decide to pull up his anchor and head back to Mille Lacs. "I just wanted to come and help," Keith said. "Building a hatchery from the ground up is not something many people get to do. Every hatchery on the west coast is already built, and every operation is the same."
Once he got here and saw the hatchery the DNR built on Shakopee Lake, Keith wondered what he'd gotten into. "My first thought was 'Oh no!' There's a reason we call it 'the Frankenhatchery.'"
Upon further reflection, though, Keith was impressed by what the DNR had accomplished in a short time with limited money. They were successfully hatching fish and stocking local lakes, with very little experience in the hatchery business. Imagine what could be done with a little more knowledge and money.
Oregon was great preparation for Keith's new adventure — and it also fed the fishing virus. "It got worse in Oregon," he said. "Salmon and steelhead fishing got in my blood. I'd be out with my buddy in the snow and the sleet. We'd look at each other and say, 'We could be home drinking coffee.' But I guess there's worse things to be addicted to."
Back at Mille Lacs, Keith has been getting out on the lake with George Big Bear, his co-worker at the DNR. He recently kept his first walleye, and he's intrigued by the possibility of muskie fishing, given his experience with giant chinook and coho salmon.
It's been a long and winding road from Illinois to Oregon to his ancestors' home at Mille Lacs — from that farm pond to the "Frankenhatchery." Looking back, though, it seems to follow a master plan, reflecting a saying you'll hear a lot around the reservation: "You're here for a reason."
Welcome back, Keith.
Photos: Keith Wiggins left Oregon rivers for Mille Lacs Lake, bringing his love of fishing with him.