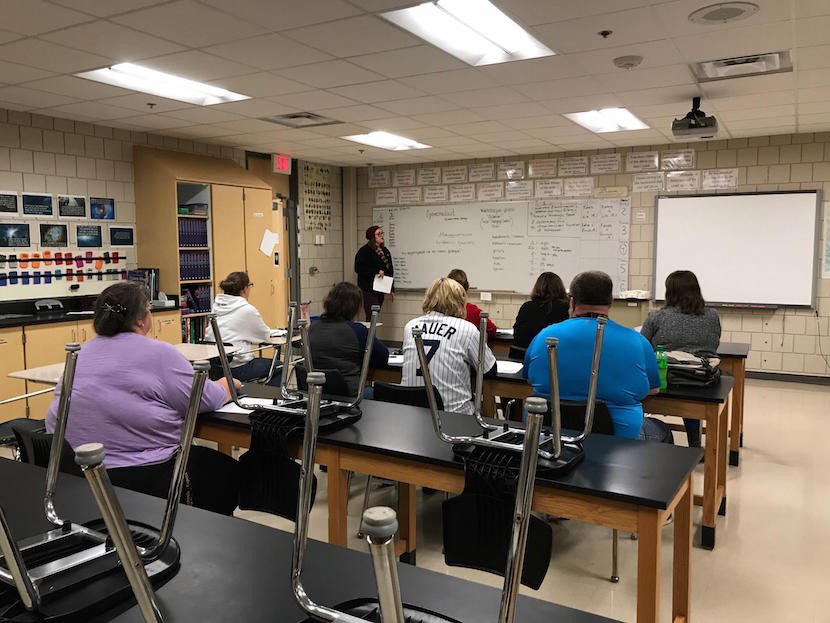 As part of an ongoing effort of Chris Clitso-Nayquonabe (Indian Education Coordinator), Onamia Public Schools and the Onamia Indian Education Department, I was recently asked to teach a beginner's Ojibwe language class after school for the Onamia Public Schools faculty.
Over the month of October for two nights a week, the faculty at Onamia Public Schools, voluntarily and unpaid, gave their time to learning basic Ojibwe language terms and classroom phrases. Together, they stumbled through every double A, I and O sound like champs. They learned months, numbers, seasons and common classroom phrases.
Great conversations were spurred in the process, such as the realization that the towns of Biwaabik and Nisswa sounded like they probably were derived in some way from the Ojibwe language. Many laughs were shared, and after every class, each teacher and staff member left excited to use the words they had learned the next day with their students. They then came back to the next class and shared the stories of how their language speaking attempts went for them and how students chimed in when they mispronounced words, or how students would even start to teach them words on their own. They all agreed that the students were pleasantly surprised by their newfound knowledge.
There was even a request to continue holding the class into the future, which was truly moving. To see our non-native neighbors in the community excited about learning Ojibwemowin to strengthen the connection they have with their students is extremely heartwarming and hopeful.
I'm always hesitant to teach classes, though I'm often asked. I don't consider myself a master
teacher; at best, I'm barely even mastering beginner level stuff. I understand the basic mechanics of the language, pronunciation, and learned a majority of what I know the old-fashioned way from some great knowledgeable elders. In high school, I learned from the incredible handwritten worksheets with phonetic spelling by Zhaawan'iban (Millie Benjamin). I also spent much time deciphering Amikogaabaw'iban's (Larry Smallwood) old written phonetic works as well. I don't feel comfortable speaking sometimes, as I share the fear that many do of being shamed for my lack of knowledge or perfection.
I'm always down to help out a good cause, though, so when I was asked, as every other time I have been,
I heard my old teachers in my head saying, "You can always teach what you know." "It doesn't have to be perfect, but the little bit that you can pass along is a lot." That little bit is exactly what happened, and I'm so glad that I got to be a part of something that was so joyful to watch, experience and teach.
Miigwech Onamia School faculty for your willingness to learn the Anishinaabe language and culture for the students at your schools!