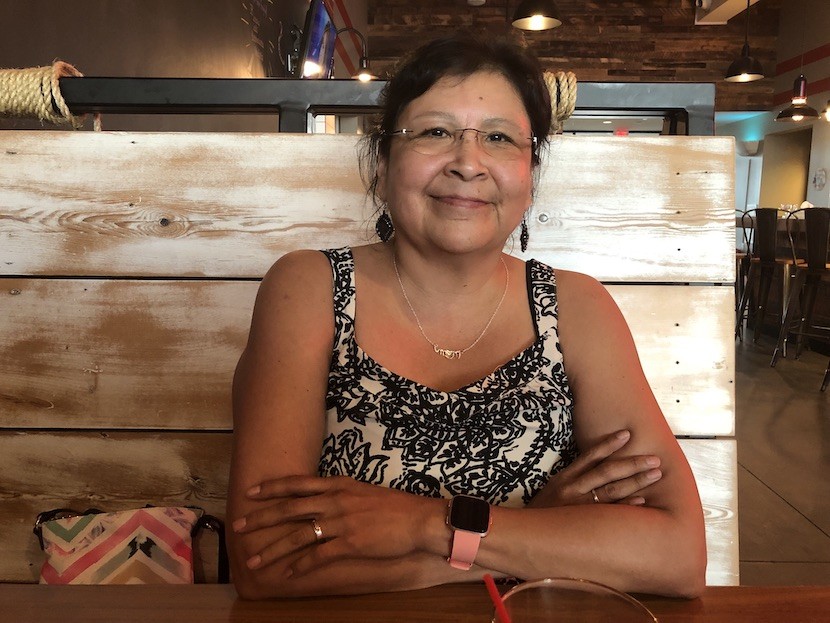 Kim Waabiishkebiikwe Sam has been a central figure in the recovery movement at Mille Lacs since she set off on her true path — the Red Road to Wellbriety — on February 5, 2005.
Although back surgery four months ago put her on the sidelines, she is now back at work at the men's halfway house and planning to pick up where she left off.
When Kim accepted a three-year grant position as Prevention Specialist in 2015, the main goal was to bring the teachings of Wellbriety to the reservation. She recalls meeting Don Coyhis, the founder of the White Bison/Wellbriety movement, who came to Mille Lacs to introduce his philosophy. Kim was impressed. "I was just drawn to him," she said.
Kim was telling her story to Don when his assistant came up to tell him his microphone was still on. Kim had been telling her story to the whole crowd.
"Are you okay with that?" asked Don.
Kim laughed. "The moccasin telegraph is strong!" she said.
The good old days
Kim was raised in District I on both sides of Highway 169. She attended elementary school at Vineland until the school closed and students were bused to Onamia. Kim's grandparents, Frank and Starry Skinaway, helped raise her, along with her mother Roberta and father Leonard Sam.
In those days, the roads were gravel and the streetlights few and far between. No one locked their doors. Kim remembers dancing at Fort Mille Lacs, where she spent a lot of time with O'mudwe, Lucy Clark, in the cool of the wigwam. "She would put me in the 'baby' swing even though I was teased that I was too big for it"" said Kim. When she'd get mad at her parents or grandparents, she'd say, "I'm going to run away and live with O'mudwe!"
One night she was staying at the home of a friend, whose mother sent Kim home after dark due to their alcohol use. Kim was followed by a bear, and she got so scared she put her fist through the window in her mother's door. "I think he was just curious," she said, "but I thought he was chasing me!"
She also remembers saving up a dollar with her Auntie/Sister Wanda so they and their friends Bonita and Beverly could dance at the old dance hall during Big Drum ceremonies.
Fond memories aside, things weren't ideal on the reservation. "Children see, children do," said Kim. "There was a lot of alcohol abuse." Like many of her peers, she experimented early, going out drinking during her teenage years. Kim earned the trust of her grandparents through earning great grades in school. That led to a lot of free time, and a teenage pregnancy.
In 1975, she was part of a group of students who walked out of Onamia High School to protest the unequal treatment of Native students. "That is how Nay Ah Shing schools were created," she said. "It started with a full-time school on the reservation called the Cultural Learning Center, which eventually became a 'school within a school' as part of Onamia High. We stood up against what was happening, including physical abuse from staff and administration."
Kim returned to Onamia for her junior and senior years. She played powderpuff football and basketball, with her baby girl watching from the sidelines. After graduating in 1979, she worked as a Comprehensive Employment and Training Act (CETA) bookkeeper with Marge Anderson as her boss. When these programs were closing, she moved to find work in the Twin Cities, California, and Las Vegas, where her mother was living.
Loneliness and pain
As the years passed, Kim's use and abuse of alcohol continued due to her own unresolved and unspoken pain.
Kim has learned that most people who become addicted to alcohol or drugs are dealing with pain, guilt, loneliness, and unresolved trauma. For Kim, it was her parents' divorce, "continuing the cycle" by having her grandparents take care of her daughter, and many deaths of family and friends that caused her to turn to alcohol.
She quotes addiction specialist Gabor Mate', who says the question is not "Why the addiction"" but "Why the pain?" Kim's other favorite Wellbriety quotes are "Hurt people hurt people" and "When sleeping women awake, mountains move."
Kim remembers an early intervention attempt by her family, but she wasn't ready to admit she had a problem. During those years of alcohol abuse, she was always making excuses and blaming others for her behavior, Kim said. She went through treatment, but her sobriety didn't last. Eventually, DWI convictions resulted in two years at Shakopee women's prison.
At a support group while she was still in the Mille Lacs County Jail, Kim recruited her sponsor Kelly, who visited her in prison and sent her recovery books and letters.
Still, prison was a lonely and difficult experience. When her daughter and grandchildren came to visit, prison rules only allowed two hugs per person: one when they entered and one when they left. It was especially tormenting when Kim's grandma Starry passed away and Kim was denied furlough to attend the funeral.
Kim graduated from a program called "Changing PATHS" (Prisoners' Attitudes Toward Healthy Sobriety). "That was my wakeup," she said. "Mothers week and confrontation group especially strengthened my recovery."
The value of recovery groups is that you learn you're not alone, and you learn to talk about your own grief and sadness as you hear others tell their stories. Kim is grateful to people like Carol and Lloyd, Doug Eagle, and Pat Provo for their involvement in Alcoholics Anonymous meetings on the reservation. Those leaders who came before her laid the groundwork for the contributions Kim has made.
"Giving back is an important part of the program," she said. "I believe in paying it forward."
Paying it forward
Two Elders who paid it forward for Kim were O'mudwe's daughter Dorothy Wewenabiikwe Sam and Skip Churchill, who helped her return to her culture and traditions. "Getting back to my culture has helped me maintain sobriety," said Kim. "Dorothy is the one who helped me to take care of a pipe. The sweatlodge teachings I share come from her."
Skip led her through Mide ceremonies at Aazhoomog. "Once you meet him he's your friend forever. You see how invested he is in our way of life, teaching how our traditional medicines help our people."
Kim has given back in countless ways. Her calendar over the years has been full. Before her back surgery, Kim was attending meetings, support groups, sobriety feasts, and sweat lodges on Sundays, Mondays, Tuesdays, Wednesdays, and Thursdays. Kim pursued and received training from the Minnesota Recovery Connection, Community Anti-Drug Coalitions of America (CADCA), and Mille Lacs Area Partners for Prevention (MAPP), which have provided education and networking.
The Wellbriety Institute and White Bison teachings are her main guide as she facilitates Mothers and Daughters of Tradition, Fathers and Sons of Tradition, Mending Broken Hearts, and Celebrating Families. The programs are rooted in Native American traditions and have helped countless people find healing.
For Kim, the key to recovery is internal: "You have to be willing to surrender, to admit you have a problem. Change has to come from inside you.""
That change has broken the cycle for Kim and her daughter Valerie, whose story ends with a valuable lesson: "It's never too late for those seeking help today!"