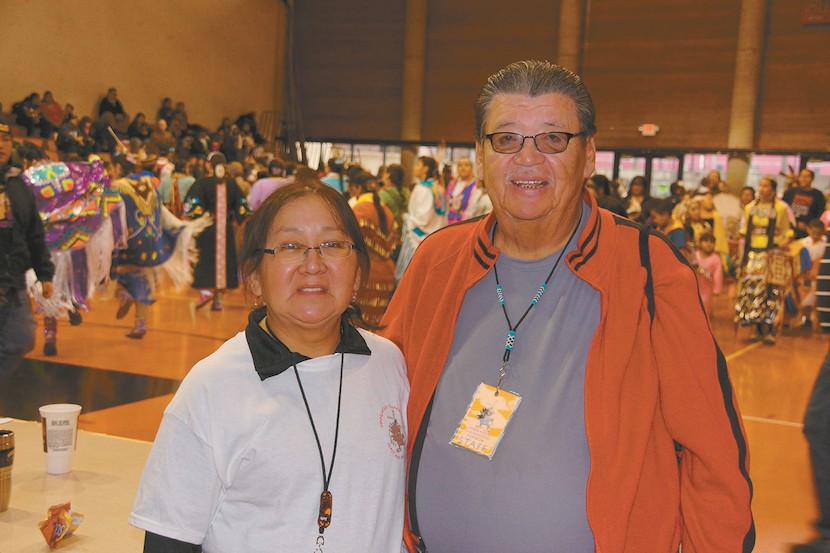 Toya Stewart Downey Mille Lacs Band Member
On the last Saturday of October, more than 100 people spent part of their day celebrating and honoring the life of Band Elder and traditional healer Herb Sam.
Herb was well known and beloved in the urban community and spent many years helping those who called on him to offer medicine, conversation, and counsel. Herb passed away in September from liver cancer.
The memorial was planned to allow those who wanted to share their memories and thoughts about the man they called friend. One by one, many of those in attendance walked to the front of the gymnasium at the American Indian Center on Franklin Avenue to share their stories about Herb. And to hug his wife, Patty Sam.
"Herb gave me my Indian name, 'Amik,'" said Hank Houle. "I loved the guy dearly. He was always there for me and my family, and I came today because I just wanted to say thanks."
So did Daniel Nelson Fox.
"When I was a rookie Indian, he took me under his wing. Herb was always there," Daniel said.
For many years Herb and Patty lived in the Twin Cities. After the couple moved to Hinckley, they were still mainstays in the urban area. They were the organizers of the annual Thanksgiving Powwow at the American Indian Center and were often at events in the Cities. At gatherings around town, Herb was frequently asked to offer prayers, smudge, and participate in activities.
On Fridays Herb set up "office hours" at the Powwow Grounds coffee shop on Franklin Avenue for those who wanted to talk with him, get medicine, or needed his healing and wisdom.
David Goodman, who knew the traditional healer for 40 years, met Herb when he was just 18 years old at an Alcoholics Anonymous group.
"He introduced me to potluck," David said with a laugh, recalling that he thought the "pot" stood for something else. "He always made me laugh and was a good man."
Besides offering words about their friend, many of those who sat on Herb's drum, the Mississippi Ojibwe Sobriety Drum, were at the memorial and paid tribute to him.
Mark Erickson was one of those original singers and knew Herb for 40 years.
"Herb would take in anyone who would stay sober," said Mark. "It didn't matter if you weren't the best singer. We have a lot of good memories, and Herb touched a lot of lives."
Many others recalled Herb's sense of humor, thanked him, and told stories about how they met him and how he impacted their lives. June Blue recalled when Herb blessed her jingle dress.
Stacy Saros met Herb when she was little girl and started dancing when her dad sang on the Mississippi drum. She then sang a song to honor Herb called "Talking with Grandparents," based on a dream her son had.
Patty said the day was filled with emotion for her, but she was grateful that everyone came out to pay tribute to her husband. Though she tried not to get too emotional during the four-hour memorial, there were times when tears were quick to come to her eyes.
"Seeing all of those people come and talk about Herb meant the world to me," said Patty. "I know he is missed by many, and he has been such a big part in people's lives."
Patty spent 22 years with Herb, who passed a few weeks before their 20th wedding anniversary. She said she misses him so, and there's not a day that goes by that she doesn't look for him somewhere in the house.
During the memorial, Patty was unexpectedly presented with a beautiful star quilt.
"The quilt that Mary Abraham made Herb was beautiful," recalled Patty. "He would have loved to see that. He was very proud of serving in the U.S. Army. He was over there with Elvis Presley and drove officers just like Elvis did."
"I'm sure that Herb would have liked to hear what the people said at the memorial," she said. "He was a very respected, humble man."
Patty said the family was planning to go on vacation when Herb got well.
"He wanted to go back to Denver, take baby, stay at the Red Lion Hotel, and take her to see the Mile High Stadium."
"He told me many times that was the place he wanted to go," she recalled. "We went to the Indigenous games, and it was a beautiful trip," she said. "He wanted Arianna to see it too."
While she was at the American Indian Center on that last Saturday of October, Patty said she couldn't help but think about all the times they were there together. The last time she was there was with her husband.
"I'm missing him every day," she said. "He was, and will always be, the love of my life. "
Editor's note: Herb was a relative and gave Toya Stewart Downey and her son, Dallas Downey, their Indian names several years ago.