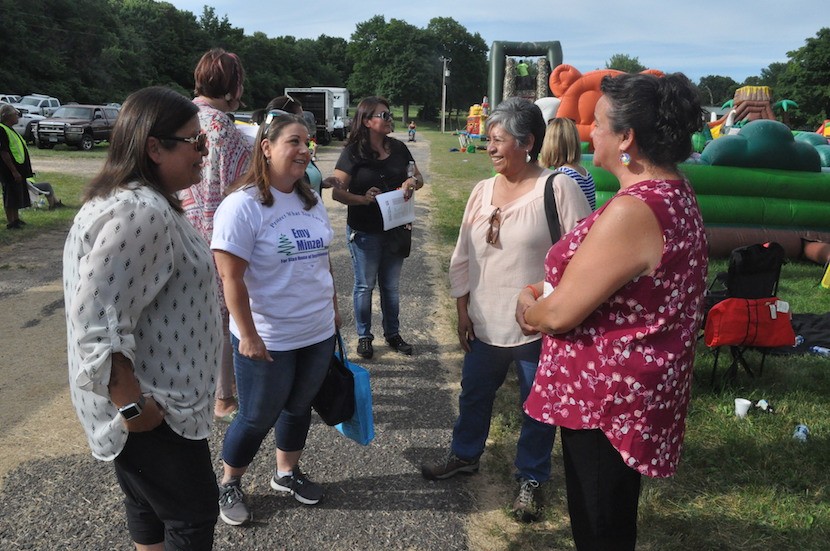 Emy Minzel is running for Minnesota House of Representatives in District 15A, a seat held for 18 of the last 20 years by Sondra Erickson, a long-time vocal opponent of the Mille Lacs Band and its members.
Emy attended the District I community picnic on July 18 to meet Band members and share her message.
Although she is not being challenged in the August 14 primary, she is seeking support in the November 6 general election.
Emy is a wife, mother, writer, and small business owner. She is a native Minnesotan, born on the Iron Range in Virgin- ia, and now lives in Princeton. "I believe in living in service, showing it by living compassionately and volunteering in our community," she said.
Emy says she would bring all sides together to restore Mille Lacs Lake and its regional economy. Her other priorities are health care, education, and the minimum wage. She believes affordable health care should be a right, a strong ed- ucational system is crucial to the future, and all jobs should pay a living wage.
She is an animal lover and member of the Sherburne County Wildlife Refuge Advocacy Committee. "I enjoy spending time outdoors, relishing in Minnesota's beautiful lakes, forests, and natural resources," she said. "My hus- band Jason calls me 'The Queen of the Hydration Nation' because I am so passionate about clean water. I believe that we inherited our beautiful natural resources from our parents and we borrow it from our grandchildren; therefore, we should preserve it so."
Among the issues she highlights:
• Healthcareforlovedonesstrugglingwithaddiction,not
punishment,
• Strongerbackgroundchecksforgunpurchases(although
she has a carry permit and supports the 2nd Amendment),
• Taxpayer dollars to support people, not corporate subsi-dies and tax breaks,
• Sustainable, renewable energy in Central Minnesota,
• Affordable, reliable internet for rural areas,
• A sustainable agriculture economy that leads us into the next century,
• Unrestricted access to birth control and family planning services
• Expansion of medical cannabis provisions and decriminalize minor offenses for recreational use.
"I seek to live my life in service and represent the greater good of our ENTIRE district, 15A," she concluded. "I truly cherish my community and the families it supports. I take personally the drive for prosperity that we need in central Minnesota. This is my first campaign for public office and I take this opportunity with gratitude, humbleness, and genuine determination to help our district prosper and flourish. For everyone!"
Sondra Erickson
Sondra fought the U.S. Supreme Court's decision affirming the Band's 1837 Treaty rights, and she has continued to side with groups that oppose tribal netting and spearing. She even fought against the Band's attempt to build its wastewater treatment facility.
She denies the existence of the 1855 Reservation, and she challenges the Band's sovereignty regularly by attempting to insert herself and her followers into the government-to-government meetings between the State and the Bands over treaty management.
Sondra was also criticized by Democrats in the House during the last Legislative session for racist comments about Indians.