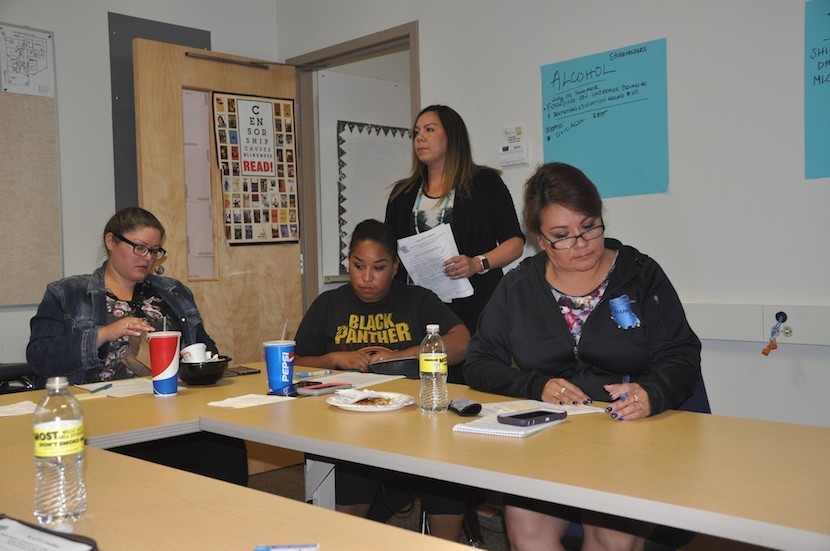 For many years, the Mille Lacs Area Partners in Prevention (MAPP) have been toiling away behind the scenes to encourage young people to make healthy choices.
Band members and employees have played important roles in the group since its origin in 2011. Byron Ninham and Amanda Nickaboine served on the board in the past, Nay Ah Shing staff have participated since the first day, and there are now five active Native American members: Megan Ballinger, Semira Kimpson, Billie Jo Boyd, Darla Roache, and Mikayla Schaaf.
The current co-chairs of the group are Semira, a Mille Lacs Band member who works in the Legislative office, and Mikayla, an enrolled member of the Wichita tribe (and daughter of Mille Lacs Band member Bill Schaaf) who works for Health and Human Services.
Darla has participated in the MAPP Coalition for about three years. She was invited to participate by a former col- league, Amy Maske, who was the Drug-Free Communities Coordinator at the time. "In my previous grant work with the Mille Lacs Band Public Health Department, it made sense for me to be a part of this group," said Darla. "I feel that the MAPP Coalition does good, positive work in our communities in creating awareness, providing education, and collaborating with others that support their mission."
Darla is now working in the Band's Government Affairs Department. "I'm glad to continue as a member of the coalition," she said. "You have to be involved if you want to see change in your community. As a parent, it also provides me with information and resources available to our youth. I've learned a lot about underage use of alcohol, tobacco, and other drugs in our community. My favorite event so far has been our Hidden in Plain Sight exhibit."
The exhibit, which has been on display at conferences at Nay Ah Shing and other schools, is a room set up as a teenager's bedroom that adults can explore. The room includes signs that children may be using — eye drops, breath mints, incense, lighters — and interesting hiding places: a computer mouse that isn't really a mouse but has a hidden compartment; a pop can that weighs the same as a full can of pop but actually opens up and has a hiding place; or a stuffed animal with a zipper in the back.
Darla encourages others to get involved in MAPP or other community groups. "If you're interested in joining, come to a meeting and check it out. No obligations! We're a fun, friendly group!"
Semira became involved with MAPP a year ago when she and her friend Megan Ballinger decided to get more involved with prevention of drug, alcohol, and tobacco abuse. Megan found the group online and asked Brian Miner (the coordinator of Onamia's Drug-Free Communities grant program) for more education on the effects of drugs, alcohol, and tobacco.
"Brian welcomed us to join the meetings so we can bring back education to the community, so that's what we did," Semira said. "I'm the co-chairperson for MAPP. Currently, MAPP has put together a National Night Out committee, which I'm a part of (see page 17). This has been a very exciting project! We have invited all law enforcement agencies and emergency responders from Mille Lacs County to collaborate with the event. It's been fun putting this together, especially since the revocation of the law agreement by the Mille Lacs County Board. It's nice to show we can collaborate together and to appreciate all law enforcement and emergency responders."
One of the challenges Semira sees is youth involvement. "Mikayla has thought of incentives to get youth involved through her program," Semira said. "We're hoping those incentives will get more youth involved next school year."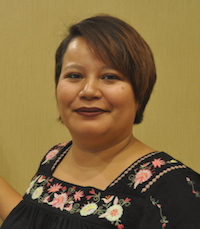 Billie Jo Boyd, who works in District I Representative Sandi Blake's office, was recruited by her friend Semira and is now a member of the subcommittee on alcohol. She said she enjoys bringing attention to the issues faced by youth in our community.
"Our kids need to know we care about their future," said Billie. "I'm hoping by getting involved in positive messages to our youth they can find a positive future."
The group is always in need of more members, more input, and more funding, so Billie Jo encourages others to get involved. "Don't be shy to come to the meetings!" she said. "The more our voices are heard, the more we can change our communities."
Accomplishments
MAPP's list of accomplishments is extensive.
The alcohol committee has brought Project Northland anti-drug curriculum to local schools, designed and purchased radio ads and billboard ads on Highway 169, sponsored re- sponsible beverage server trainings and compliance checks, and shared "positive community norms" messages at parades, schools, the powwow, and health fairs.
The tobacco committee has brought curriculum to Onamia schools, worked with local businesses on tobacco prevention, posted signs at Isle and Onamia schools, and coordinated with Mille Lacs Band and County public health departments on tobacco efforts.
The committee on other drugs has installed a prescription drug take back box at the Onamia Police Department, promoted Prescription Drug Take Back Day, sponsored community presentations on opioids, hosted "coffee with a cop" with Onamia and Tribal officers, brought marijuana curriculum to the District I Community Center, and applied for grants to address opioid, heroin, and methamphetamine use.
Youth involved in MAPP have performed at the winter storytelling event, developed an anti-smoking video, and joined MAPP adults in many other activities.
That's just a sampling of what the group has accomplished, with many more plans in the works, including National Night Out at Eddy's Resort on August 7. See page 17 for more on National Night Out.
Positive Community Norms
The MAPP coalition and others like it around the state operate according to the Positive Community Norms model. The main focus is on changing misperceptions in the community about teen alcohol and drug use. The hope is that kids will be less likely to engage in those behaviors if they know the facts: that most kids in the community don't drink and use drugs and would prefer not to use them, and they would support their friends in their decisions to avoid alcohol and drugs.
MAPP was founded in December 2011 through a grant awarded to Rum River Health Services of Princeton. When that organization dissolved, the project was picked up by Onamia Schools. The Mille Lacs project began with a series of extensive surveys to determine patterns of alcohol and drug abuse in the area.
In addition to showing that students overestimate the amount their classmates drink, the surveys also showed other misperceptions. For example, law enforcement and parents both underestimate the other group's interest in combatting underage drinking. Both groups — just like students — also overestimate the amount of underage drinking in the community.
The results of the surveys are used to fashion messages and promote activities that will help to prevent or delay the onset of alcohol use among teens.
The focus on delaying onset is based on science. If a student drinks at the age of 15, they are four times more likely to abuse alcohol or drugs as an adult. The longer you can delay it, the greater the chance they will never have a problem.
Natives Are More Likely to Abstain from Alcohol
A study that came out in 2016 also shows the difference between perceptions and reality: In contrast to stereotypes about high rates of alcohol misuse among Native Americans, University of Arizona researchers found that Native Americans' binge and heavy drinking rates actually match those of whites. The groups differed regarding abstinence: Native Americans were more likely to abstain from alcohol use than whites.
Photos: Five Native women — Megan Ballinger, Semira Kimpson, Mikayla Schaaf, Darla Roache, and Billie Jo Boyd (pictured below) — have taken an active role in the Mille Lacs Area Partners in Prevention.