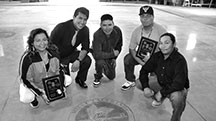 By Brett Larson, August 3, 2015
Five Mille Lacs Band members are among 13 graduates of a training program organized by the Minnesota Department of Transportation (MnDOT), the Cement Mason Union, and four Indian communities: Mille Lacs, Bois Forte and Fond du Lac bands, and the Ho-Chunk Nation of Wisconsin.
The graduates spent 12 grueling, but inspiring, weeks learning the tricks and tools of their new trade at the Local 633 Cement Mason Union training center in New Brighton. On Thursday, July 2, their families, teachers, and tribal leaders gathered to congratulate them at the same site.
William Sayers, one of the Mille Lacs Band students, was living in Chiminising and sugarbushing when he heard Tribal Employment Rights Director Craig Hansen give a presentation on the training at the District II-A community meeting. William was looking for a way to stay active in the community and take care of his twins.
"I'm really proud," William said on graduation day. "We formed a pretty strong bond. It's almost like we're all brothers and sisters."
McKenzie Reynolds, another Band member graduate, heard about the training at the Mille Lacs Band's urban meeting. She said it's a great career for those who don't want to work in an office but prefer to be outside and on their feet.
"It's that kind of work," she said. "You bust a sweat."
She enjoys patching and making things look smooth, and she also likes the math involved in concrete work. She hopes others will have similar opportunities.
Band member Rueben St. John said he enjoyed the physical nature of the work.
"It sounds easy and looks easy, but Moke gave us a wake-up call."
Instructor Moke Eaglefeathers made the students carry five-gallon pails of rocks back and forth across the yard, just to give them a sense of the physically demanding nature of the job. He also made them skip lunch at times, because that's how it is in the real world.
"The harder it got, the more fun I had," said Rueben. "I'd just laugh and smile and say 'Let's play!' We made it through 12 weeks and had a blast."
Anthony Jones credits his grandmother, who heard about the program at the Mille Lacs Band's urban meeting and encouraged him to apply. "I didn't know anything about construction before I came here," he said. "Now I'm making new things I never would've thought I'd be making."
He's not sure what's next, but he's ready to get to work. "I don't really have a dream job," said Anthony. "I'm just going with the wind. Right now this is my opportunity, and I'm going to take it and see how far it will lead me." Jones also highly recommended the program to others.
Band member Anthony Kegg was selected as the student speaker for the ceremony. He admitted that it was hard for a "class clown" like him to be serious, but he performed admirably.
"It's a golden ticket for me," he said. "It's a means to financially stabilize myself. I want a house, I want the playground in the back yard. I want my son to be happy." He said it gives him a sense of pride not just in himself, but also in his people. "I love these guys. They worked hard and persevered, and they were successful. It makes me proud to be a graduate with them."
The graduation event began with a pipe ceremony and song from the Bois Forte Drum Group. Chief Executive Melanie Benjamin, Brandon Benner of the Bois Forte Tribal Council and the instructors praised the graduates during the ceremony.
"What you have achieved today took tremendous courage because it required that you take the risk of believing in yourself. You bet on yourself, and took a chance that you would win," Melanie said.
She recalled her own experience in the construction trades, as she stressed the sacrifice the students made to be away from their families for 12 weeks.
"You took a chance, you bet on yourself, and today, you have won," she concluded.
The partnership between the tribes, MnDOT and the Union came about largely through the work of Mille Lacs Band Tribal Employment Rights Director Craig Hansen, who was referred to as "our ringleader — in a good way" by Maria Conley of MnDOT's Office of Civil Rights. Maria hosted the graduation event and gave the welcome.
Hansen was involved in the partnership from its inception on May 5, 2014, when he met with TEROs from other tribes and the MnDOT Office of Civil Rights. "MnDOT was looking to partner with tribes to boost their number of qualified minority and female workers on projects throughout Minnesota," said Craig.
"We worked hard as a group to figure out how the training was going to work," he said. "The logistics of bringing 16 to 20 tribal members across the state and do a 12-week training was difficult. We held several meetings to work out the details, budget and iron out any differences."
After agreements were signed, Craig's office announced the training at the State of the Band in January, and they visited every community meeting from the end of January through February. The candidates were selected by the union and notified in March. On Monday, April 13, the first day of training was underway.
The TERO Office will continue to stay in touch with the five Mille Lacs Band members for the next six months to track their employment opportunities and follow up with them as they begin their careers as cement masons. "Overall this training was a success, and we certainly hope to provide more training opportunities like this in the future," Craig said.