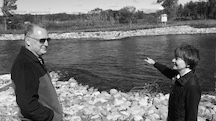 By Mille Lacs Band of Ojibwe, September 11, 2015
Susan Hedman, Region 5 Administrator for the Environmental Protection Agency (EPA) visited the Mille Lacs Reservation Sept. 10. Jim Ruppel, US EPA Tribal Liaison for Wisconsin, accompanied her on the visit.
Hedman has been touring reservations throughout Region 5 and meeting with environmental staff and tribal leadership. She also chairs the Great Lakes Regional Working Group that implements the Great Lakes Restoration Initiative (GLRI) which has funded the Band's Lake Ogechie project.
Perry Bunting, the Band's Environmental Programs Manager, said "We took Susan and Jim to view the new dam built at the Mille Lacs outlet and also to Buckmore Dam to explain the second phase of the Lake Ogechie habitat and wild rice restoration project. We also stopped at Lake Onamia to show her the successful reestablishment of wild rice there."