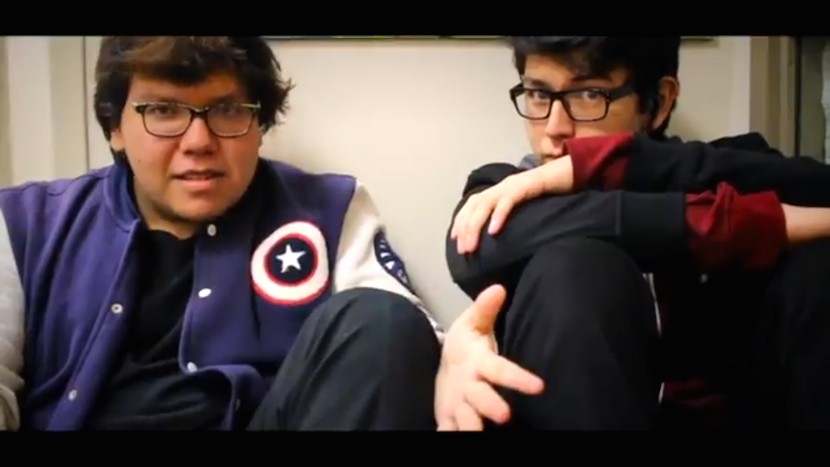 The National Academy of Television Arts and Sciences — Upper Midwest Chapter/Foundation has recognized Band member Clifford Jones and his Bemidji High School classmate McKinley Kingbird as 2018 Student AV All Star Honorees.
The awards recognize students who are technical assets to the success of a school or non-profit educational student video media program.
Clifford and McKinley are both seniors at Bemidji High School who have been involved in video production and the school's weekly show, Lumberjack Live, since their sophomore year. Lumberjack Live is a student-produced and directed show with emphasis on storytelling, camera work, audio work, and editing.
Clifford and McKinley received nominations for four videos that show the range of their talents: features about depression and young love, a fantasy about kids with super powers, and a news report on the school musical.
Clifford's interest in video started much earlier than high school, however. "I joined the intro class sophomore year, but I've been doing videos since before elementary school," he said.
His favorite part? "The writing," said Clifford. "Showing off our amazing stories."
Being part of the school program has given Clifford access to high-quality video equipment and editing software as well as the insights of his teacher, Bryan Hammitt, and the school's broadcast technician, Bennet Aube.
"They taught us the basics, and we've kind of been teaching ourselves the more advanced things," said Clifford.
Clifford and McKinley have learned every role from boom pole operator to producer, but their biggest asset, according to Mr. Hammitt, has been providing unique content to the weekly show. They have produced everything from stop-motion animation to deeper features about relationships and suicide.
"The boys work well with others and excel at conveying their vision with the people they work with," said Hammitt.  "They are exceptional at forming production crews with people of all races and social groups and work at the highest level of being resourceful with locations and limited gear that they have to work with."
He praised their problem-solving ability and the unique subject matter of their stories, as well as their passion for film production. "If they are not filming something for our school show, they are on the stage crew for all the productions that the school offers — school plays, concerts, sports broadcasts, pep fests, dinner shows, etc. Cliff and Mac are true leaders in our classroom."
They are not the 'hip-hip-hooray' type, Hammit said, but lead by example. "Their production value is so high in the features they make that the other students try to emulate them. In all my years of teaching video production, I have never worked with two kids who are as passionate about storytelling and video work as these two young men. They are truly a blessing to have in class and such a great example of great attitude while working hard with limited resources."
Clifford is grateful to his mom, Josette Staples, and his stepdad, Michael Staples, who have given him the motivation to stay in school and graduate so he can continue to pursue his dream: "If everything goes right, I hope to become a director in Hollywood," he said.
First, he plans to attend college in Duluth, but for now, he is focused on his next film. "Before we graduate, we're gonna try to make a short film," he said. "So far our longest is five minutes, but this is gonna be the biggest project we've ever done."
See for Yourself
You can check out Clifford and McKinley's work on YouTube by searching for Lumberjack Live or Ala- baster Elfeno. For Clifford's favorite, a Quicksilver vs. Spiderman parody, go to YouTube and search "Quicksilver vs. Spiderman."
Photo: Mille Lacs Band member Clifford Jones, left, and McKinley Kingbird, right, have teamed up to produce award-winning videos during their time at Bemidji High School.