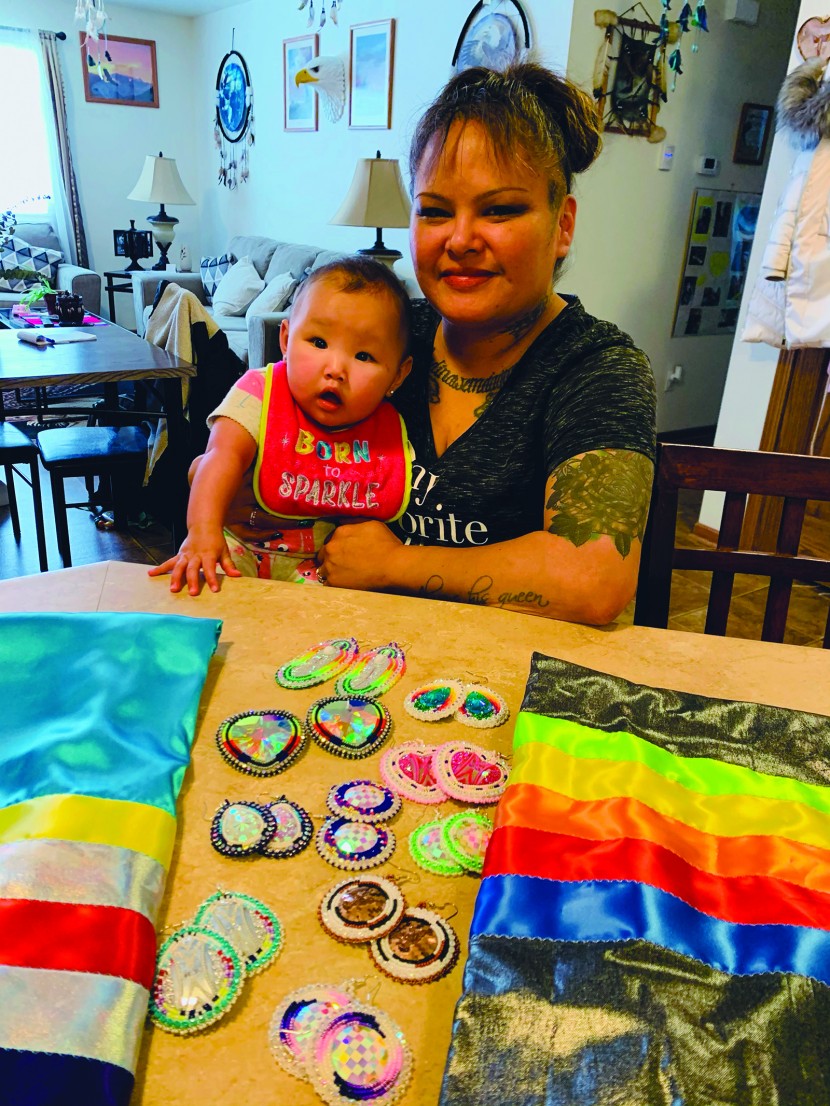 Asiniikwe Carrie Sam finds solace in beading
As Asiniikwe put the final touches on a pair of earrings that she had created, a sense of accomplishment and healing came over her.
She smiled as she admired the beauty of her new creation. "These are created for someone special. I just don't know who yet," she giggled. Like many pairs of earrings before this, each bead sewn into the fabric added a little more healing for her as she continues on her path of sobriety and overcomes grief from the loss of her firstborn daughter.
"While making earrings, I meditate," said Asiniikwe, also known as Carrie Ann Sam. "It is very healing for me. I was stuck in grief for a long time. Beading has helped me so much."
Born to Debra Blake and Jerrold Harrington, Asiniikwe grew up in District I. She attended Onamia Schools for elementary and Nay Ah Shing for high school. She has four kids: Renee, who would have been 41, Valareya, Zachary, and Kira. She also has a 7-month-old granddaughter, Kehlani Biskaakaniikwe.
Although Asiniikwe grew up in District I, she has been in Chiminising (District IIa) for 20 years. "I chose to live in Isle because it's quiet and safe," she said. "All my kids went to school in Isle. I wanted to raise my children in Chiminising because it is a family-oriented town and I feel comfortable here."
Three years ago, she married Jason Sam from Chiminising. Both are in recovery, and they continue their journey of sobriety together after meeting at Mash-ka-wisen powwow in Fond Du Lac, Minnesota. Jason's cousin, Michele Berger, introduced them, and they have been happily married ever since.
Asiniikwe learned how to bead from her son, who taught her to make medallions several years ago. She got back into beading last year when she went into quarantine due to COVID-19. Her last day of work was March 28, 2020, when the casino closed. While in quarantine, she knew she needed to do something to keep busy, so she decided to take up beading again. She visited her sister-in-law, Priscilla Greenleaf, who helped her get back into beading. Priscilla is also from Chiminising but resides in the urban area.
Another person that has helped her along the way with sewing is Gilda Burr from District I. Gilda taught a skirt-making class that Asiniikwe attended, and after they completed the class, Gilda continued to come over to her house to continue the teachings. Since then, Asiniikwe has made several skirts in a rainbow of colors.
Since she has started beading again, Asiniikwe has made several pairs of earrings. She started her own online business called Asiniikwe's Creations. On the site, you will find several one-of-a-kind sets of earrings and handmade skirts. "That's what I did nonstop every day. I would just sit here and bead during quarantine. I look at my earrings from when I started then versus now, and I have come a long way!"
Asiniikwe has been sober for nine years. "I quit for my children, so they would have a better life," she said. "My culture, higher power, and smudging help me in my recovery, and I also use my hand drum and sing sometimes."
She lost her first daughter to addiction on August 17, 2018, and has struggled daily to heal and overcome grief. Prayer and beading have helped. "I wouldn't wish that on anyone. Honestly, I almost didn't make it through by myself. If my husband Jason wasn't here to support me, I probably would have relapsed or done something I may have regretted."
Asiniikwe is looking to the future for young women in her community who may have been lost in life due to addiction or grief. "There are so many young women in our community who are lost," she said. "I want to help them find their way back. I want to start a beading group and help them heal."
Asiniikwe started a healing circle after her daughter Renee passed. "I had to do something," she said. "I started my own healing group here in Isle for a while and now I want to continue on with it."
Asiniikwe has been working on starting a women's healing group in District I at the old community center. The group meets weekly on Tuesday evenings at 5:30 p.m.