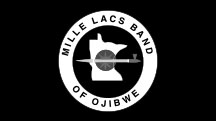 By Brett Larson, August 5, 2015
Jane Harstad, the new principal at Nay Ah Shing Abinoojiyag and Pine Grove Leadership Academy, has found her ideal job. "I'm excited for the challenge," said Jane, a Mille Lacs Band descendant and Red Cliff member. "This is what I've studied all my life to do."
Jane spent 11 years as a teacher in St. Paul at the American Indian Magnet School (where her children attended) and Longfellow Humanities Magnet School. She taught kindergarten through 5th grade as well as a regalia sewing class.
In 2005, Jane enrolled in Penn State's Master's program in American Indian Leadership, which trains American Indians to be principals. She went on to earn her Ph.D., focusing on curriculum and instruction, and along the way she taught in the education program and mentored future teachers.
After seven years of graduate school, Jane was ready for a breather. In 2012, she moved back to her house in St. Paul and took a job at Birchbark Books, the Minneapolis bookstore owned by renowned Anishinaabe writer Louise Erdrich.
"That gave me a chance to think about what I wanted to do next," Jane said.
It didn't take long for the right opportunity to come along. After some time in the nonprofit sector, Jane heard about a position at Nay Ah Shing.
She was hired as a curriculum consultant but soon got involved in other areas as well. "I jumped in with both feet," Jane said.
Along with Education Commissioner Suzanne Wise, Executive Director Joycelyn Shingobe, Chief Executive Melanie Benjamin, Strategic Initiatives Coordinator Emily Johnson and Education Planner Shelly Diaz, Jane worked to secure federal approval to turn Pine Grove Leadership Academy into a satellite of Nay Ah Shing. That required writing a plan and finding the equipment and personnel to implement it.
A new opportunity opened up when Silvia Norberg, principal of the lower school, retired at the end of the school year. Jane applied for the position and was eventually chosen. She started work as principal on July 6.
Jane has a list of priorities for Nay Ah Shing. The school is in year eight of "restructuring" under the No Child Left Behind act. She said the school has turned things around but needs to continue making progress.
In addition, she wants to raise expectations — for students, staff and the community.
"If the staff can show and model those high expectations then the students will follow along," she said. One specific expectation is attendance. Truancy has been a serious problem at the school. She also hopes to provide more professional growth opportunities for teachers.
"The possibilities are endless," said Jane. "These teachers work so hard. They know change is needed, and they're willing to do it."
Jane intends to make the school's operations more transparent and to improve the school's relationship with the school board and the community. She said a new community liaison, Joe Montano, is already making improvements.
Jane wants to revamp the school's evaluation methods and use data to target instruction. She is putting new instructional teams in place and implementing a "responsive classroom" approach to aid learning and improve the school's climate. She's also creating a new lounge space to encourage teachers to decompress during the day.
"What we really need is lasting and sustainable change and not a quick fix," Jane said. "The changes that we're starting may not have effects you will see today, but they will tomorrow. We're investing in the future here, the future of our children and the future of the band."