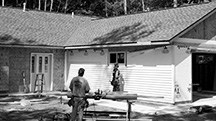 By Mille Lacs Band of Ojibwe, February 11, 2015
From Craig Hansen, TERO Director:
The Mille Lacs Band TERO Office along with Fond du Lac, Bois Forte and Ho-Chunk tribal TERO Offices are partnering with MNDOT and the Cement Masons Union to provide a 12-week pre-Apprentice training starting on April 13th and running 12-weeks through July 3, 2015 at the Cement Masons Union Training Center in New Brighton, MN.
MNDOT is paying 80% of the training plus lodging at a nearby hotel, the tribes are paying 20% plus a $300 a week stipend for each of their participants.
One Band member from each district will be selected, as well as one alternate from each district. This is a pilot program. If it is successful, MNDOT has said that they will consider doing another one next season.
The selection process will begin when a Band member fills out the application for this training and will have to attend one of the screenings to be evaluated by the Cement Masons Union. If you are in the Urban Area and missed the screening last Friday, you are eligible to attend any of the screenings until March 13th (last screening day). Ultimately, the Cement Masons Union representative will make the selections to be as fair as possible. The selected Band Members will meet with the TERO Office in March for paperwork and pre-orientation.
On April 12th, the selected Band Members will arrive at the hotel in New Brighton and the training will begin on April 13th. At the end of the 12 weeks, the tribal members will take part in 2 job fairs, 1 hosted by the union for their union contractors and MNDOT will sponsor the other non-union job fair at a site to be determined.
This will be a very physically demanding training, but at the end of the training the Band Member will have the opportunity to join the union and continue on training or work with a non-union contractor and put those skills to use in a career. It is an amazing opportunity and I sincerely hope that we are able to continue with this training, however we need this pilot to be a successful one!
Contact the MLB TERO Office 320-532-4778.
For more information, please attend the February Community Meetings:
February 11, 2015 District I Community Center, 5:30pm
February 18, 2015 District III Grand Casino Hinckley, 5:30pm
February 25, 2015 District IIa Chiminsing Center, Isle 5:30pm
February 26, 2015 District II East Lake 5:30pm