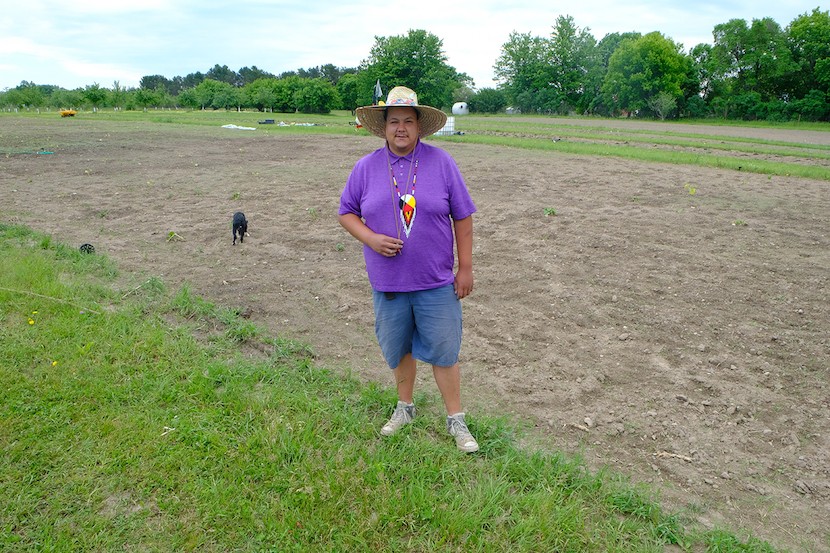 Agriculture Coordinator Jon Houle with the Mille Lacs Band Department of Natural Resources hopes to bring Band members back to their roots.
"We're the first farmers of this land," said Jon, who spent summers growing up at his relatives' 3,000-acre farm in Wisconsin. "The generations of culture suppression our people have endured has hindered the thousands of years of inherited knowledge and abilities of Ojibwe farming and harvesting techniques that are necessary to maintain a healthy lifestyle with one's self and mother nature. We all have the inherited drive to provide a healthy way of life for our family and our community. The Division of Agriculture's goal is to provide the momentum for that drive."
Jon has been busy this spring starting hundreds of varieties of plants from seed at the greenhouse near the District I powwow grounds.
He transplanted the seedlings to the gardens at Sodbusters where his cornucopia is growing strong: 150 pumpkins, 15 varieties of squash, dozens of varieties of peppers and tomatoes, beets, peas, 10 kinds of beans, a 60-foot potato patch, 50-some cantaloupe, kale, leafy greens, radishes, and 23 rows of corn sown by hand, including heirloom varieties planted by his colleague Linda (Black Elk) Bishop.
When he's not working in the greenhouse or the fields, Jon is planning ways to implement a grand vision for the Division of Agriculture, which includes development of a ranch west of Onamia.
In June he hosted a visit from agriculture specialists with the University of Minnesota and the Natural Resources Conservation Service who are interested in partnering with the Band to develop the site.
He has also met with Minnesota Commissioner of Agriculture Thom Petersen and many nonprofits who may work with the Band to develop the property.
The dream is for an agriculture education site with bison, cattle, poultry, and other livestock, in addition to an equine therapy and reentry program managed by Health and Human Services. He plans to build lodging where students and interns can stay and learn about farming in a large-scale operating ranch setting.
Jon credits his late father, Charles Houle Jr., for planting the seed that grew into a love of the soil. Charles was raised in District I and told Jon about the gardens tended by his grandmother, Maude Kegg.
"He was always very intuitive when it came to nature and the outdoors life," John said. "His teaching about giving tobacco before you take has cemented my ways of maintaining the natural balance of nature's proper give-and-take agriculture methods. With the threat of all the world's topsoil being lost by 2075 due to harmful chemical farming techniques, erosion-caused deforestation, and global warming, as Native people we can no longer sit by and wait for rest of the world to fix this alarming global crisis. We are the first farmers of this land, let us not be the last."
Looking over the Sodbusters gardens and apple orchard, Jon gives credit to another Elder, Leonard Sam, who first developed the site. "Leonard was out here last summer. He'd work from 7 in the morning until 5:30 at night, and he wouldn't even take a lunch break. We had dudes out here, 25-30 years old, who weren't able to hang with him."
Jon also developed a strong work ethic during his summers on the farm, and in recent years as a maintenance worker and Emergency Services Coordinator. With that work ethic comes high expectations for himself and his program: "In a world of talkers, I'm a thinker and a doer. I don't want this to be something that takes 10 years to transpire. The planet can't wait. We need it now."
Above: John at the Sodbusters gardens north of Onamia.
Below: John gave a tour of the Band's agriculture projects to a group of agriculture specialists from the University of Minnesota on June 7.