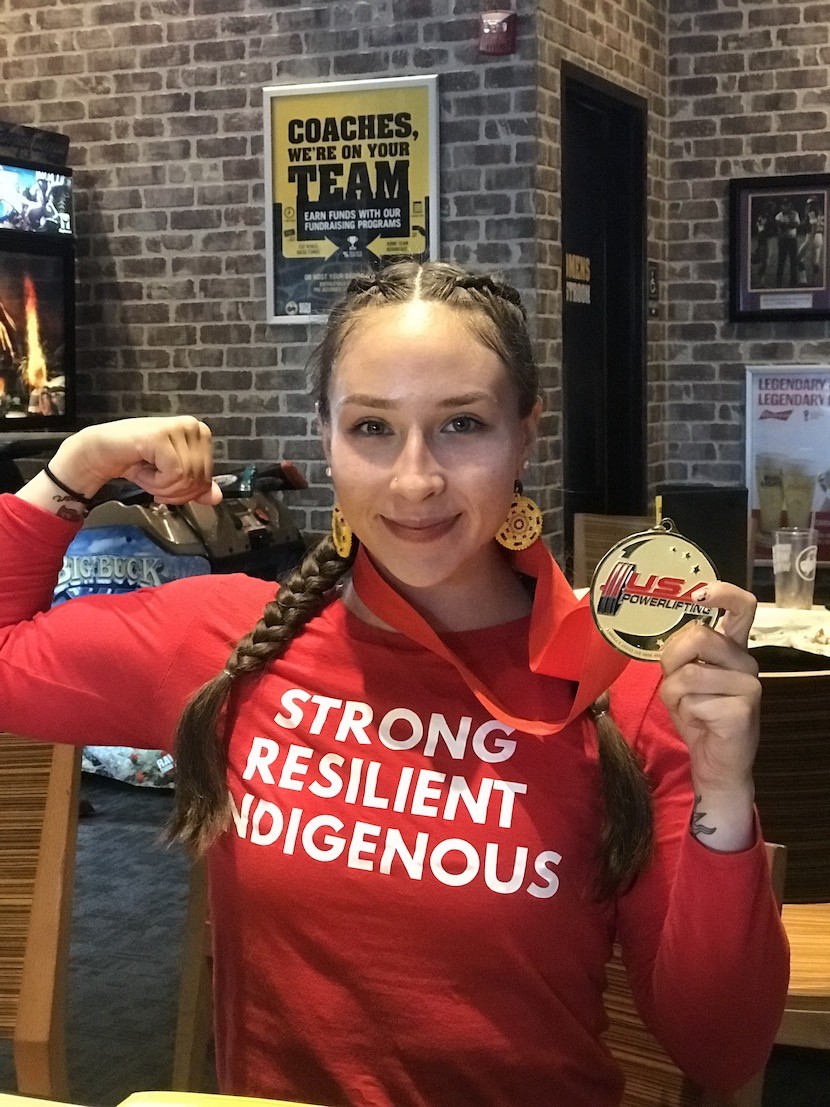 Minneapolis Band member Jenesis Fonder is working hard to succeed in lifting and life.
Toya Stewart Downey Mille Lacs Band Member
In October, Jenesis Fonder will take center stage in a national powerlifting competition where it's very likely she will be the only Native American woman to participate.
Jenesis, a 20-year-old Band member, is excited to show her competitors, and others, that powerlifting is a sport that attracts people of different backgrounds, different ages, and different cultures.
"There are not many Indigenous people who are into powerlifting," said Jenesis, whose mom is Mille Lacs Band member Rina Reese Fonder. "There are not many big names in the sport, and it's mostly dominated by white males. I hope to change that."
When she goes to the 2018 USA Powerlifting Raw Nationals in Spokane, Washington, Jenesis will have the opportunity to show off her hard work and her passion for the growing sport of power lifting at the annual event.
The competition spotlights the top power lifters in the country as they seek to be selected for international-level teams and events. Over the past three years, more than 1,000 athletes have participated in the Raw National event.
Getting started
Jenesis has come a long way in her goal to become a renowned athlete in a sport that used to be considered a hobby just a few decades ago.
She grew up in south Minneapolis and saw her dad, Bud Fonder, work out every day and participate in the three local meets held in the Twin Cities. Back then, powerlifting wasn't considered a career or a sport where people could earn money — a change that has been realized as its popularity has grown.
Determined that she wanted to take on powerlifting, Jenesis started working out with her dad when she was 12 years old. "It was all for fun back then, and I didn't do too much other than lifting."
While she was in middle school, Jenesis decided that powerlifting made her too strong and her physique too boyish, so she gave it up. She wanted to conform to what she thought a girl's body should look like — not too strong, but "slender and shapely."
She took up other sports — volleyball and softball — and gave up on powerlifting. However, when she was 15, Jenesis decided to recommit to her passion and took up the sport again. This time it stuck, and she set goals she wanted to achieve.
Though she continued to play volleyball until she graduated from South High in 2016, she also started working out four days a week along with participating on her school's track team as a sprinter and pole-vaulter. Though she ran and did cardio workouts, she still worried about her weight.
"It's hard to get strong when you're trying to be thin," said Jenesis. "I gained weight from the muscle mass."
But that didn't deter her, and as a high schooler she earned second place in a powerlifting meet. Since then she's done six meets, but won't do more than two per year.
Jenesis recently hired a personal trainer to help her advance in her powerlifting career. She has a regimented diet to help with her program and focuses on meal preparation to help keep her on track — even when she's busy.
To prepare for the Raw competition, she trains six times a week for 90 minutes to 2 1⁄2 hours. She's also spending the summer working with youth through the city's park and recreation program — a job she loves.
"I want to qualify for the national meet and plan to get good experience from Raw," she said. "I have numbers that I want to get in my lifetime, and that's my own goal. I could break a record, but someone else can come behind me and break it. So I focus on the numbers I want to get."
Jenesis Fonder is one of a small number of Native power lifters.
Jenesis, who can lift 333 kilograms — 732 pounds — is more than a dedicated athlete, she's also a dedicated student.
Student life
In the fall, Jenesis begins her junior year at Carleton College in Northfield, but will be able to finish all of her required credits to complete college in three years.
Not an easy feat, but the young lady who has paid her own college tuition out of pocket isn't looking for easy.
Instead, she's looking towards her future and the goals she wants to accomplish. Jenesis is majoring in political science and is anxious to finish college and move on to the next thing.
"I want to study tribal policy and the intersection between tribal and federal governments," she said. "I take every class I can that has a native perspective, but there aren't that many at Carleton."
In the meantime, Jenesis is involved with language preservation, working with other students on a Dakota language linguistics book.
Next steps
Jenesis, who is a stellar scholar, is ready to advance toward whatever is next.
One day she hopes to use what she's learning to give back to her community, "especially since we've lost footing with this current president," she added.
While she's not sure if she will go to law school or pursue a master's degree in one of her interests, such as tribal governance, sovereignty, and the Supreme Court, she knows that higher education beyond her undergraduate degree will happen.
She'll also keep pursuing physical fitness, possibly by owning a gym someday.
For now, she'll finish up a college, continue to spend time with her family and friends, and train for the upcoming powerlifting event.
"I want little girls to look up to me and know that they can make it happen," Jenesis said.