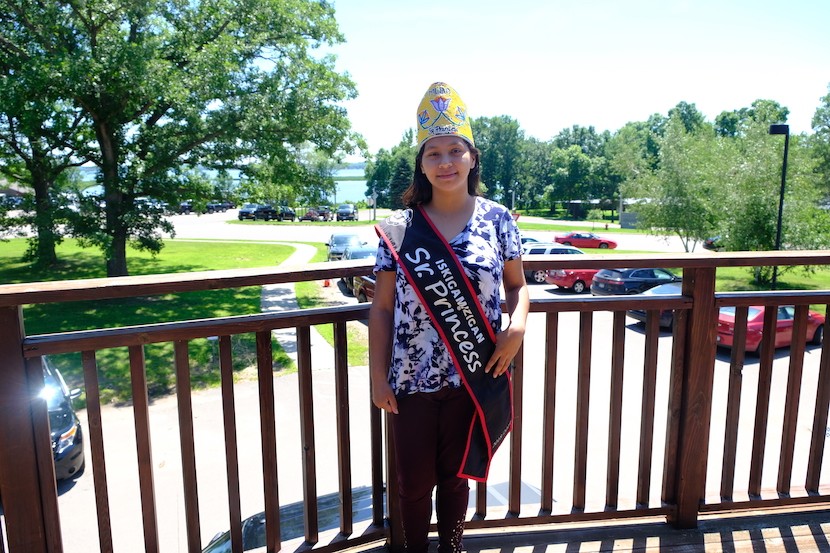 Jasmine Schwensen, the 2018 Mille Lacs Traditional Powwow Princess, has had a busy year. She's already traveled to the Gathering of Nations in New Mexico as well as powwows in Colorado, Washington, Wisconsin, and all across her home state of Minnesota. Along the way, she's made new friends and grown into a confident and enthusiastic young woman.
The honor is not the first for Jasmine, a jingle dress dancer who will be a senior at Onamia High School. She has already served as Mille Lacs Junior Princess and as Senior Princess for Onamia Schools.
She also learned to sew this year, taking a class from Band member Adrienne Benjamin. "That was my first time making a dress by myself," said Jasmine.
She was planning on keeping the dress she made, but then decided to sell it when she was in Washington to help pay for travel expenses.
The young girl who bought Jasmine's dress was all smiles. "It made me happy to see her happy," said Jasmine.
To run for royalty, candidates need to fill out an application packet and prepare a speech — preferably in Ojibwe. At the Mille Lacs powwow, they are expected to participate in the Saturday morning parade to show the committee that they can represent the Band at a variety of events.
One of her favorite roles as Princess is to serve food to Elders. "It makes me happy to see them happy," said Jasmine.
You can see a theme emerging: Jasmine loves to see others smile, and as a powwow dancer, she has many opportunities.
Hearing the beat
Although jingle dress dancing may look simple to the unitiated, there's a lot to it. "You have to make sure you dance in time to the drum and your feet are on the ground during the honor beats," said Jasmine. "And you have to make sure your jingles are in time with the drum, so you have to listen carefully to your jingles and the drum at the same time."
Jasmine's sense of rhythm will help her in college, too, where she plans to pursue music. Jasmine loves to make new beats on her phone, write lyrics, and listen to hip hop and K-pop. She's looking at music programs in Chicago, St. Louis, and Minneapolis.
Jasmine's advice to young dancers is to watch the women who dance the style they're interested in, whether it's traditional, fancy shawl, or jingle. "I like to see what they do and then put my own twist on it," said Jasmine.
Growing in confidence
"One thing that has changed is that I'm more confident speaking out," said Jasmine. Her mom, Christine Pewaush, has encouraged her to step forward and speak in a loud voice.
Christine couldn't be prouder of her daughter's accomplishments. "I'm happy that she chose to follow in her mother's footsteps as a jingle dress dancer," said Christine, who was also a Mille Lacs Powwow Princess. "Her dad (Sheldon Schwensen) and I are behind her 100 percent."
Jasmine will crown her successor at this year's powwow at the Iskigamizigan Powwow Grounds in District I. "It will make her happy, and that will make me happy," Jasmine said, repeating her mantra. "I just hope I'm tall enough!"
After growing into her role over the last year, Jasmine has nothing to worry about.