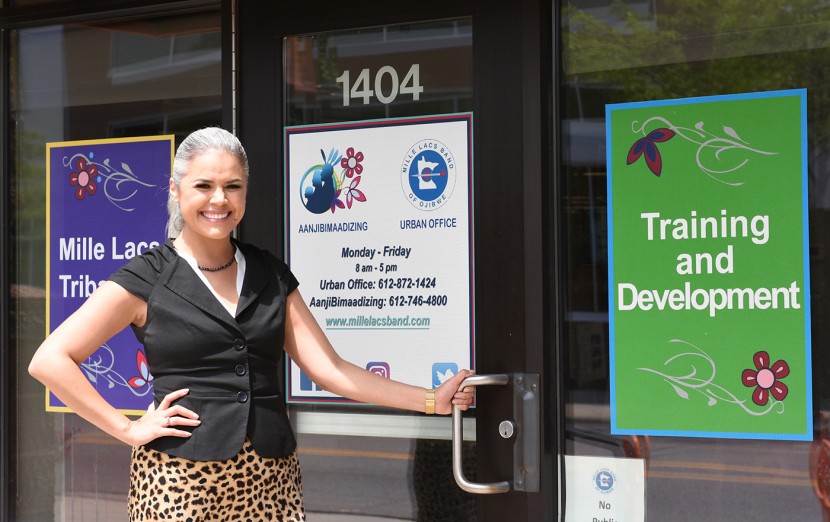 Bradley Roache Jr. Mille Lacs Band Member
Wahbon Spears is the new site manager for the Urban Office. Barb Benjamin-Robertson retired late last year after two decades of service, and has officially passed the torch.
Wahbon is a mother of three. Her youngest, Kaya, is entering the 8th grade and plays soccer. Her daughter Tehya will be a sophomore this year and is a Minneapolis Public Schools Native Youth Council member. Chaska, her eldest, plays lacrosse and recently graduated from Edison High School.
Wahbon grew up in Minneapolis, and like most city kids, attended public schools. Then in high school, she tested for and was accepted to Breck, a private college-preparatory school in Golden Valley. Making the transition from a public school to a private one can be difficult. It takes a certain level of adaptability to succeed. "I dealt with a lot of culture shock there," said Wahbon. "I learned from that experience to walk in two different worlds. It was a balancing act."
After high school, Wahbon attended Minneapolis Community and Technical College and then transferred to Augsburg University, where she majored in Business Management. Augsburg was named one of the top 200 schools for Indigenous Americans in 2018, by Winds of Change Magazine.
A summer internship with General Mills in 2009 led to a job offer that at the time looked great to Wahbon. "But there was something missing," she recalled, "and that was being in the Native community."
While searching for jobs in the community, Wahbon found out that Little Earth of United Tribes in Minneapolis was looking for a college navigator. With her experience and success in a college prep school, she was a solid candidate to help other kids find their way. She got the job because she was well-versed in what it takes to succeed academically, as well as what colleges and universities were looking for in prospective students. Wahbon was a mentor who helped students navigate the whole process. She was also there to assist with application fees, rides to and from orientations, even proof-reading papers. Wahbon became a valuable resource to many students in the Native community.
In addition to her job as college navigator, Wahbon also managed the Little Earth Single Family Home Ownership Initiative, which assists Native families in getting through the process of home ownership and in finding good, quality, affordable housing.
After several years with Little Earth, budget cuts led to a change in funding, and unfortunately, Wahbon's job was on the chopping block. It was time to branch out a bit. She found a job with an event planning company in Burnsville. They planned weddings, corporate events, home parties, and other festivities. Along with keeping track of 140 employees for various events, she also had to be in attendance to run the show and make sure things went off without a hitch. Thinking back, Wahbon said, "I enjoyed my time there, and I was able to come back to my community with a new set of skills. I tried something new, and it was a lot of fun, but again, there was something missing. I never wanted to leave working in the Native community."
When news got around that Barb was retiring and the Urban Office was in need of a new site manager, Wahbon was ready. She decided to throw her hat in the ring and apply for the job.
Wahbon understood that if she got hired on, she'd have some pretty big shoes to fill. "As an urban Native who has lived here my entire life, she (Barb) was my connection to the tribe. And every time I came in here, whether it be to send a fax, renew my tribal ID, to fill out some paperwork, whatever I had to do, she was there for me."
When she found out that she got the job, Wahbon felt honored, humbled, and excited for the opportunity to work with and serve urban Band members. She received Barb's blessings as well. "What made me feel really good, and actually more confident, was that Barb had confidence in me. Because she's known me for so long, she was just like 'You're gonna do great!' Just hearing that from her felt good."
So far, the transition has been a smooth one, and Wahbon is appreciative of each day, "I get to come in to work every day and do something that I love." She said. "This is my purpose. My passion."
For Wahbon, the most rewarding part of the job is being back in the community. "It's the people I work with, and it's the community that I'm serving. I've been very fortunate, and everybody here has been absolutely great!" Wahbon is an inspired and experienced addition to the already talented Urban Office staff.