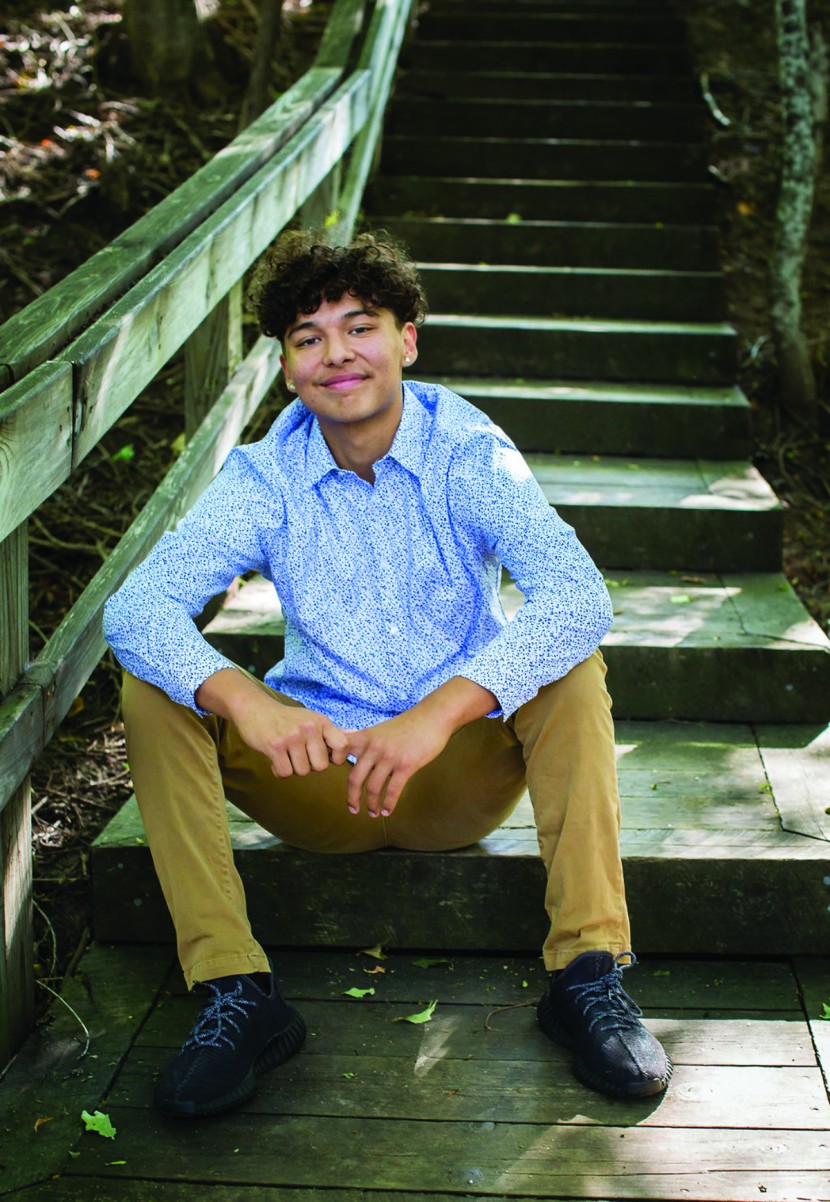 By Aiyanna Mitchell Mille Lacs Band Member
Isle's lone Native American on the varsity football team has been one of the most committed players of the last six years. Derek Smith has played for the Isle Huskies football team since he was in 7th grade, and he is now a team captain playing his senior year in the midst of COVID-19.
Derek has played many different positions since 7th grade, from wide receiver in 7th through 9th grade to quarterback in 10th and 11th grade. This year he has played multiple positions ranging from quarterback to cornerback to wide receiver.
Even though they didn't have a full season due to COVID-19, the Isle football team has been extremely lucky to play all their scheduled games.
Derek's favorite part of competing is showing others that he's better than they think. His goals are not only to have fun, but also to prove his dedication to the game — and to win.
Derek said his teammate Teagen Haggberg gave him a love for football and is the person he's looked up to during his high school career. He loved being a part of the team because he felt welcomed by everyone and also because he could be a role model and someone others feel like they can talk to.
"Football has taught me many lessons about the sport and life outside of sports," said Derek. "I have learned many lessons from my coaches about how I can take moments from the sport and implement them into my everyday life."
Derek's career highlights include his senior year game against Carlton-Wrenshall. Derek had a couple of long catches and a touchdown to top off the night.
His favorite moment from football came during his junior year when the Huskies played Mountain Iron-Buhl because they had an artificial turf field, and everyone was thrilled because it was so cool.
Derek lettered in football in his 9th, 10th, 11th, and senior years. He has been a role model not only in sports but education also. He has always been a student-athlete and has been on the honor roll.
Derek has no intention of playing sports in college even with his amazing athletic career. He plans to focus on school work so he can get into medical school in the future.
Anyone who knows Derek will tell you he was always dedicated and had a passion for sports, as well as education. Here's some advice from Derek for the younger generation athletes: "If you want something, you need to put everything into it. You cannot be lackadaisical about what you want to do. That also applies to life; you cannot be very lazy about anything in life. You need to be driven about things you are passionate about."
Derek also plays basketball, so if the 2020-21 season goes forward, stay tuned for more good news from this young role model.