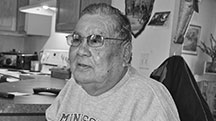 By Brett Larson, May 8, 2015
No matter what was happening in the tumultuous days of the 1970s through the 1990s — changes in government, the advent of casino gambling, a lawsuit over treaty rights — Doug Sam was there, and he usually had a hand in it. Fortunately for today's Band members, he's still around to tell the stories, and he's still serving his community.
Doug was raised in the Vineland area, but he spent a lot of time with his grandparents, Mike and Annie Sam, in Isle. He slept on a bedroll on the floor. From his grandparents he learned the old ways of the Anishinaabe. "They taught me everything," Doug says. "Maple sugar, ricing, birch bark — we learned by example."
Doug graduated from Onamia High School, where he and his brothers Bruce and Fred were athletes. His mother Maggie worked at Harry Ayers's trading post and Fairway Market in Onamia until she retired.
Coming home
Doug moved to Minneapolis and later California, eventually spending 25 years as a steelworker for Consolidated Western Steel, which later became United States Steel Corporation, and Triple A Shipyard. He was working on a dam in San Luis Obispo, California, when Kennedy was shot. He also worked on the Transamerica Tower in San Francisco, the Bay Area Rapid Transit (BART) and the Alaska Pipeline.
He split from his wife in California, but when she decided to move home to Minnesota, Doug agreed to pull the trailer back to Minnesota. Doug hooked a trailer to the Ford Fairlane with every intention of going back to California, but his wife wasn't having it.
He was three years from retirement with the union, but he gave up his full pension and stayed in Minnesota. "I had to grin and bear it," he says.
Sadly, his wife died of cancer two years later, and he also lost four of his six kids — two daughters to cancer and two sons to car accidents. Doug believes his wife and daughters may have died from exposure to asbestos, which he brought home on his work clothes.
"I don't know why I'm still alive," he says.
Separation of Powers
When Doug got home, he went to the union hall in Minneapolis, and they sent him to work for Standard Iron Works. He commuted to the Twin Cities from his home at Mille Lacs. Eventually he hurt his shoulder and took a job with the Band's education department.
At the time, his mother was the Band's secretary/treasurer. When she passed away in the late 1970s, Doug was voted in to fill out her term. He was reelected and served seven years in tribal government. One of the first things he did was to consolidate the Band's accounts and create the Office of Management and Budget.
When Doug became secretary/treasurer, the Band government was still a Reservation Business Committee, or RBC. The Separation of Powers system in place today came about largely through the actions of Doug and the others in government at the time: Chairman Art Gahbow and District Representatives Marge Anderson, Julie Shingobe and George LaFate.
The Separation of Powers idea initially arose as part of a federal grant to the Minnesota Chippewa Tribe (MCT) to develop a new constitution. The MCT board chairman asked all member tribes to come up with a draft constitution at the next quarterly meeting. Doug went home and organized meetings with elders, who developed the model. He chose 15 people from different factions across the Band. He recalls that among those on the committee were A.J. Nickaboine, Georgianna Day, Beatrice Mitchell, and Betty Sam.
Doug brought the draft constitution back to the MCT quarterly meeting and gave copies to all the other tribes and staff members from various agencies. None of the other tribes had brought a draft. Still, they all proceeded to criticize the Mille Lacs draft. Doug said to the chair, "Mr. Chairman, how much authority do you have?" The man giggled, and Doug said, "You instructed each tribe to come back with a draft constitution at the next quarterly meeting. No one else has a draft, but you sit here criticizing our draft. I want all the copies back, and I'm going back to Mille Lacs."
Art Gahbow said, "I'm going with him."
At the next quarterly meeting, they presented a resolution for Mille Lacs to withdraw from the MCT. The MCT didn't accept it, but Doug says they stayed pretty quiet after that.
There was no love lost between Mille Lacs and the MCT. Mille Lacs received only 2.5 percent of the BIA budget, and they didn't have the timber and mineral resources of some of the other bands. "Grand Portage and Fond du Lac got more than us, even though they were smaller tribes," Doug says. "We kept asking for parity but they wouldn't give it to us. We were the poorest tribe in the country."
Doug and Art decided that their only choice was to go to Washington to lobby their representatives. They met with President Reagan's Secretary of Interior, James Watt, who told them, "You can't have your cake and eat it too."
Doug thought about that, and in the middle of the night, he realized what Watt meant: That they couldn't be in the MCT and have Separation of Powers. Doug called Solicitor General Jay Kanassatega. "Do you know what that SOB was telling us?" he asked. An impromptu meeting of the RBC was called at 3 a.m., and they decided their only option was to separate from the MCT, which would require an act of Congress.
Democrat Representative Jim Oberstar wouldn't touch the bill, so they met with Dave Durenberger, a Republican. He said "Why should we help you? We saw all your Ojibwe flags on a photo of the Democratic convention at Duluth."
Art told him the Mille Lacs Band flag wasn't there. "Look at the photo carefully," he said.
Durenberger looked at the photo and said, "Come in, boys!" He and Rep. Vin Weber sponsored the bill to separate Mille Lacs from the MCT, but it never came up for a vote. Doug says the bill is still waiting to be resubmitted.
Doug and Art weren't done yet, though. They found a clause in the MCT Constitution saying each member tribe can come up with its own rules for running its own government. That was all they needed to implement separation of powers at Mille Lacs.
It took some convincing, but in good time, the Band's RBC unanimously adopted a new model of government, the first tribe in the nation to do so.
Treaty rights
Doug gives former Band employee Don Wedll a lot of credit for the Band's victory in court over 1837 Treaty rights. "Don pushed the whole thing," Doug says, adding that meetings with Elders and communities took place before the decision to move ahead. Doug and other community members did their research and were on board with the decision to sue the state.
If Doug had gotten his way in the early 1980s, though, the Mille Lacs Band may have avoided a costly lawsuit related to the 1837 Treaty. When the Wisconsin tribes went to court over the treaty, Doug wanted Mille Lacs to intervene in the case — just as the Wisconsin bands did in the Mille Lacs lawsuit.
The Band's lawyers, however, advised against it. The lead attorney for the Lac Courte Oreilles band, the original plaintiff in the case, was Jim Zorn, an unknown lawyer from a small town. The Mille Lacs Band's lawyers thought he would lose the case, and Art was convinced. Doug said to Art, "The lawyers aren't supposed to tell us what to do. We're supposed to tell them what to do."
In the end, Mille Lacs didn't intervene in the Wisconsin case, and Jim Zorn surprised everyone by winning the case.
Casinos
One full term as secretary/treasurer was enough for Doug. He left the government but soon got drawn back into Band business. Art called him into his office one day and asked him to take over the Band's bingo operations, which were losing money. "We'll pay you $15 an hour," Art said.
Doug went home and thought about it, then called to accept the job. "It was probably the worst decision I ever made," Doug says. The bingo operations were in debt and had bad credit, and they were out of supplies. Doug found some guys in Hermantown who were providing materials to Fond du Lac, and he convinced them to give Mille Lacs enough supplies to last a year. Revenue improved, and so did the Band's credit.
In the late 1980s, an Indian firm from Wisconsin came to Mille Lacs and asked if the Band wanted to set up slot machines.
Doug said he didn't have authority to do so, but Art came over to the bingo hall and said, "I want the machines set up by tomorrow evening."
Doug and his team worked straight through the night to get the machines up and running. "They were illegal as hell," Doug says. "Every time someone with a suit came in, I'd shiver."
They didn't have equipment to count coins, so they'd bring five gallon pails of nickels and quarters to the bank in Garrison.
Doug says that event shows the kind of person Art Gahbow was. "He was tough," Doug says. "He didn't take any crap. He'd say, 'They have no respect for me. Why would I respect them?'"
Ironically, that attitude did earn respect in Washington. Doug says Senators would open doors for Art in Washington.
Doug, Dave Matrious and traditional chief Melvin Eagle met with business developer Stan Taube, "Famous" Dave Anderson and attorney Larry Leventhal about the possibility of establishing a casino on the Mille Lacs Reservation. Stan Taube, on returning to Oklahoma, contacted business developer Lyle Berman, who came and established Grand Casino, Inc.
Art passed away just after Grand Casino opened, and a new era began, with white men like Ron Maddox exerting influence behind the scenes. "He ran the rez," Doug says. "Art didn't like him."
Doug said the elders weren't in favor of opening a casino at first. They were concerned because young people were spending all their money at the bingo hall, and the elders were the only ones paying the bills.
When the Shakopee Mdewakanton in Minnesota and Seminole tribe in Florida started seeing success with their casinos, however, the elders came around. After the Indian Gaming Regulatory Act was passed, Mille Lacs was one of the first tribes to open a casino, and the Band's two casinos have been thriving ever since.
Doug says not enough credit is given to traditional Mille Lacs Chief Melvin Eagle. He was 100 percent for the casino and helped to start it. He was the first ombudsman for the casino employees. "He was fair, he kept good records, and he took care of the employees," Doug says.
Preserving the culture
Doug had seven children with his wife Christine (Skinaway) Sam: Dallas, Rebecca, Marsha, Maxine, Doug, Doran, and Mickey. Doug, Marsha, and Mickey are still alive.
Today Doug works at the District 1 cultural grounds. He remembers many of the things his elders taught him by example — and even now, when he offers tobacco, new memories come back. Doug helped bring Midewin cultural activities back to the grounds.
The grounds are located on a Band-owned lake and beautiful forest near the wastewater treatment facility. Visitors come from all over the country to participate in ceremonies.
Doug is still active in the community and culture and is always willing to share the things he's learned with anyone who is interested.