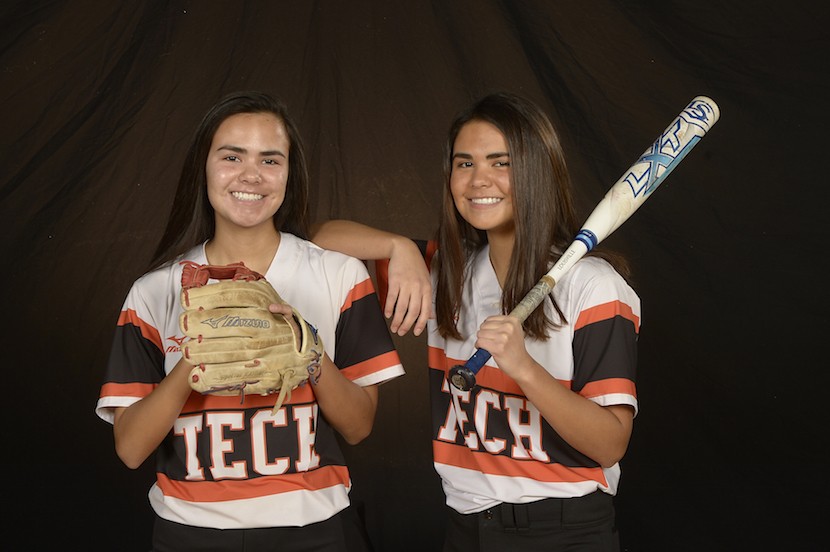 By Alyssa Enno Mille Lacs Band Member
Bailey and Taylor Woommavovah, twin sisters from the Mille Lacs Band of Ojibwe and recent graduates of St. Cloud Tech High School, were recently featured in Breakdown Sports Media 2019 Softball Issue. Anyone who knows "the twins," as they are often called, knows that they are somewhat reserved, so when the opportunity came up for them to be in a softball magazine, they weren't too sure if it was something they wanted to do. But, they did it!
The girls are also in the 2019-2020 calendar. Bailey was the starting shortstop and has also pitched and caught this year — basically she has played every position on the field. Taylor was the starting pitcher for St. Cloud Tech High School, and she has also played second base as well as outfield. Both girls have been Varsity starters since they were freshmen and served as captains during their senior year.
In addition to playing softball in high school, both girls have played competitive softball on a number of travel softball teams since 2011. Their parents, Krista and Noah Klug, have been there every season from school ball to dome ball in the winter, cheering, supporting, and stepping in to coach.
The twins' athletic skills, talent, initiative, and leadership abilities are mirrored in their academic performance. Bailey ended her high school career with a 4.198 GPA, and Taylor ended hers with a 4.166 GPA. Both graduated with high honors. The twins never shy away from a challenge, whether it's on the field or in the classroom. Both girls were in the National Honor Society, have attended AP classes since their sophomore year, and have spent a number of hours volunteering in their community. They have also participated in youth clinics, in which they have helped younger girls learn and enhance their softball playing skills.
Their hard work, talent, and intelligence did not go unnoticed as both girls were accepted at a number of colleges, including Auburn University, Marquette, Drake, Xavier, Creighton, and the University of St. Thomas. Despite the overwhelming number of acceptance letters they received in the mail, the twins have both decided to attend the University of Minnesota this fall. Bailey plans to major in mathematics at the Twin Cities campus, and Taylor plans to major in finance at the Carlson School of Management. Both girls have also expressed interest in exploring the American Indian studies program offered on campus.
Their successes in high school and softball are just the beginning. We congratulate them on these accomplishments and look forward to seeing them thrive in college.